If Little Mermaid vibes and family-friendly activities in the White Mountains are your thing, it's time to book your tickets for Living Shores Aquarium, located next door to Story Land in Glen, NH.
Living Shores has over 32,000 sq. ft. of fun for the whole family, including interactive tide pools, exhibits shimmering with schools of fish and fluttering flocks of lorikeets, and plenty of opportunities for hands-on learning.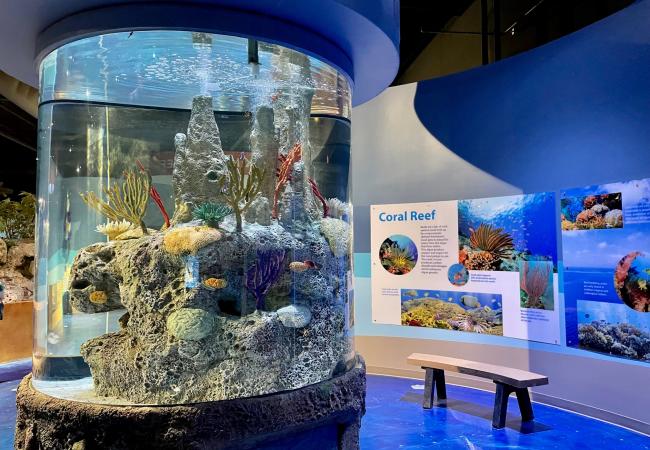 On a recent weekday, the marketing crew at White Mountains Attractions spent a few hours taking in the sights, squeals, and feels of Living Shores Aquarium. After picking up our tickets at the front desk, dropping off any extra bags in one of the handy on-site lockers, and posing for some silly pictures, we made our entrance into the aquarium.
The first exhibit you'll spot is a school of Silver Moonys, darting in their tank. From there, it's a journey through New Hampshire's native species. Keep an eye out for the chart depicting different species of trout; can you tell the difference between a Rainbow and a Brookie?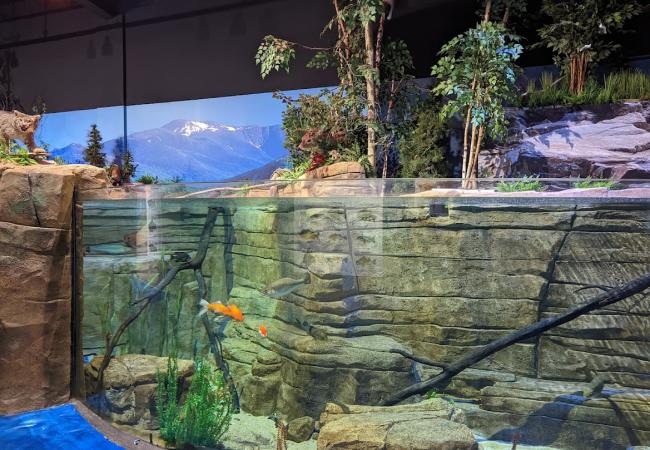 As you stroll past these first few exhibits, the full breadth of Living Shores is on full display. To the right, we spotted a walk-in lorikeet enclosure. These cheerful birds decked out in colorful plumage soar throughout the room and alight on outstretched hands for a sip of nectar from a cup. Be sure to set aside time for this experience; while you might have to wait a few minutes for your turn to feed the lorikeets, the feeling of having a tiny bird (or two!) perched on you is unforgettable.
Other residents of the Tropical Walkthrough Aviary include all kinds of reptiles and amphibians, and a tarantula habitat poised right at eye-level for interested kiddos.
From there, the journey continues into the main, open exhibit space. We made a beeline for the Red Garra Touch Pool (also known as the "nibble fish"), giggling alongside family groups as these small, lively fish crowded around our fingertips. The Ray Touch Pool gave us the chance to practice Living Shores "two finger touch", which encourages gentle contact for all hands-on interactions with the animals.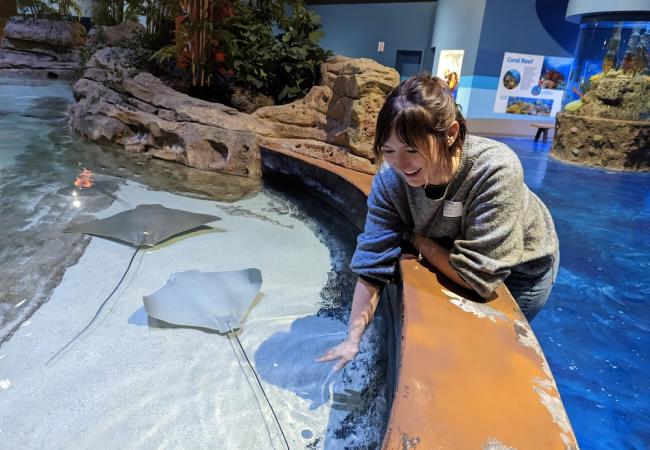 As we rolled up our sleeves and put our hands in the water, we marveled at the underwater ballet of Cow Nose Rays, Atlantic Stingrays, Yellow Stingrays, and Atlantic Guitarfish beneath the surface. Watching them glide through the exhibit was a moment of calm amongst the exciting chattering of children – although, soon enough, we were just as loud, chortling as the rays bumped against our fingers and splashed against the sides of the pool.  
The rest of our time at Living Shores passed by in a blur of memorable moments. Between the colorful tanks filled with all manner of sea life and the informative panels near each exhibit, we found ample entertainment. We sculpted a new ocean floor in a digital sandbox and caught a splashy entrance to the aquarium's signature Asian small-clawed otter experience. We spotted a scorpion, smiled at a leopard gecko, and almost bought a tiny otter purse in the gift shop.
By the end of it all, we couldn't wait to come back, family in tow.
Start planning your family trip to Living Shores Aquarium! Check out lodging in the surrounding area, as well as other nearby attractions. Trust us, there's plenty of things to do with kids in the White Mountains, and so many ways to make your own magical weekend escape.
Come along on our adventure! Click the video below.