Nature is all around us here in the White Mountains and we want to share with you some easy ways that you can get outside, explore, and experience some of our beautiful trails (and maybe see an animal or two!)
#1: GET NEARER TO NATURE AT SQUAM LAKES NATURAL SCIENCE CENTER
Nature, but make it approachable for all! The Squam Lakes Natural Science Center in Holderness, NH is the perfect place to start your journey through New Hampshire's natural world. The SLNSC is a quick drive east from I-93 (making it a super convenient stop if you're headed north towards the White Mountains from points south) and boasts boardwalks meandering through all manner of the forest, marsh, and meadow habitat. Along the way, visitors will encounter a series of expansive enclosures that showcase NH's wild and rescued/rehabilitated animals in their natural habitat.
One of our favorite things about this stop is the variety of engaging exhibits for kids of all ages, as well as the Science Center's small fleet of wheelchairs and strollers to ensure the whole family can discover the wonders of nature, all together. 
Be sure to say "hello" to the brand new Mountain Lions, who arrived at the SLNSC only a few months ago! 
For more information on accessibility, hours, and special exhibits, visit the Squam Lakes Natural Science Center website. 
#2: HIKE TO A WATERFALL
We don't care what that song says...we encourage you to go chase those White Mountains waterfalls (safely, of course! Why not start your journey at Arethusa Falls in Crawford Notch? This captivating 160' waterfall is named after the Arethusa of Greek mythology, a nymph who turned into a fountain. Today, the feeling of palpable magic at the base of this cascade has made it one of the most popular waterfalls in all of the White Mountains. 
To reach Arethusa, pack your hiking shoes, snacks, and water, and park at the large trailhead lot. You have 1.5 miles of rocky, rooty walking to get to the waterfall, but the woods are wonderful this time of year, and Arethusa awaits. If you're with little ones, make a game out of spotting chipmunks, wildflowers, and other interesting outdoorsy things along the way; your hike will fly by in a haze of happy summer memories.  
Ready to see some more cascades? Head to our waterfalls page or read up on some of our favorite Stunning Waterfall Walks in the White Mountains! 
#3: BOOK A MOOSE SAFARI!
The one question that we get asked the most is: "Where can I see a moose"? While we can never guarantee a moose sighting, especially since these large animals are pretty elusive, however you can increase your change by booking a moose safari here in the White Mountains. These 2-3 hours tours run in the evening and the knowledgeable tour guides know the best places to spot these gentle giants. These tours typically have a 95% (or higher!) sighting rating and you may see other animals such a deer or owls while you're out on your safari. Pemi Valley Moose Tours is located in Lincoln, North Conway Moose Safari is another great option, as is the Gorham Moose Tours.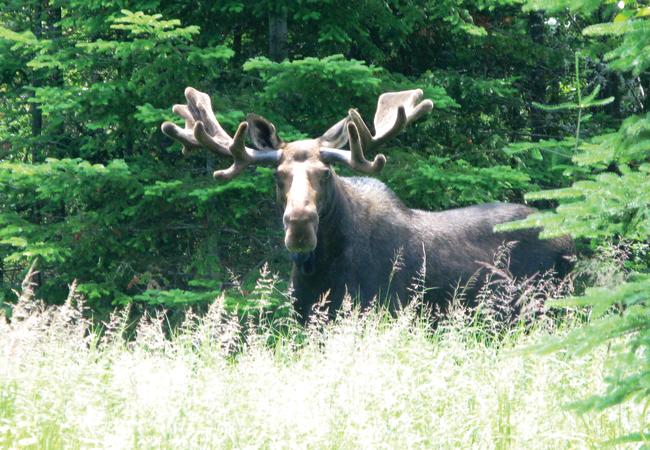 #4: EXPLORE THE DISCOVERY TRAIL INTERPRETIVE SITE
The Kancamagus Highway is exhilaratingly scenic, but we still like to stretch our legs a few times during the drive. The Discovery Trail Interpretive Site is an easy option located on the eastern side of the Kanc, just 6.2 miles off Exit 32 in Lincoln, NH. Pay special attention to the interpretive panels interspersed along the 1.4-mile loop path for some fresh perspectives on the ecology and history of the White Mountains. 
#5: TAKE A BIKE RIDE
There are many places to ride a bike in the White Mountains, but the 9-mile (one-way) Franconia Recreation Path located in the heart of Franconia Notch gives you a mix of uphill, downhill, and breathtaking views. Book a bike rental through Sport Thoma or Rodgers Ski & Sport in nearby Lincoln, NH, or you bring your own! Also, if you're down for a bit of hiking alongside your peddling, take a 1-mile roundtrip walk to The Basin, a gorgeous glacial pothole waterfall. 
To access the trail from the south, park at the Flume Gorge. To access the trail from the north, park at Echo Lake or Cannon Mountain. Please note, that all parking areas can be full during the busy summer months. Another option? Utilize Sport Thoma's summertime shuttle service after securing your bike rental. 
Need more information on mountain biking or road cycling? Check out our Resource Guides which offers information on biking and other types of recreation in the White Mountains. 
#6: CLIMB AN ELEPHANT'S HEAD
Located in Crawford Notch, this rock face is aptly named as it bears a strong resemblance to an elephant's head and trunk! This easy .3-mile hike will only take you about 30 minutes to complete and offers stunning views for minimal effort.
Ready for more interesting formations? Rock your socks off with a hiking/driving tour of the White Mountain's best geologic features. 
#7: DRIVE THE WHITE MOUNTAINS TRAIL
If you are looking to soak in the scenery, consider taking a drive on this 100-mile loop. The trail begins in North Woodstock and brings you through Franconia Notch, Bretton Woods, North Conway, and into Lincoln. There are many scenic vistas, trails, and shops to explore and you just might see a moose, turkey, or other type of White Mountains wildlife along the way.
Our favorite way to tackle the White Mountains Trail is to add in the other stops from this blog or pull inspiration from these Trip Ideas and make it a nature-centric extravaganza. 
We'll see you out in the woods, nature lovers!