Woo your sweetie with this round-up of unique summer date night ideas in the White Mountains, NH. From riding and dining on a vintage train to picking your own blueberries, solving a mystery in an escape room, taking a moonlit boat excursion, or sampling some local wine, there are so many ways to celebrate in tandem during the summertime.
Get creative and win those brownie points with your boo! We'll see you out there.
Remember to check the operating hours and dates for all businesses while planning your summer date. Some listed experiences are available during the daytime or evening only.
SOAR ABOVE THE WHITE MOUNTAINS IN A HELICOPTER
Vertical Ventures Aviation in Whitefield offer rides over the picturesque White Mountains. Your romance will reach new heights as you take in the unique scenic perspective high above the trees.
EXPERIENCE AN ESCAPE ROOM
If you want to add some intrigue to your next date, check out North Conway, NH's awesome escape room, Mystery NH. Release your inner detective and work together to solve clues to help you escape the room within 60 minutes. A fun and challenging experience await!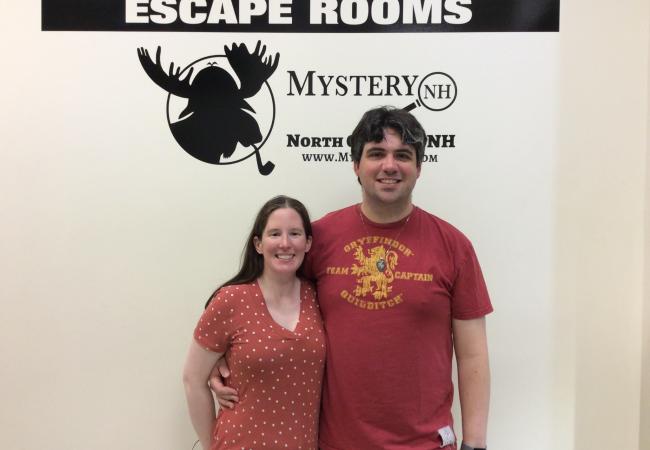 (Photo Credit: Mystery NH)
SAMPLE SOME LOCAL WINE
Visit the Tasting Room at Seven Birches Winery in Lincoln, NH to sample delicious, locally made wine. You will receive five samples as well as a little story about each wine as you sip. At the end, purchase a bottle to take home, or to take with you on a picnic or sunset hike! Other wonderful wineries in the area include the Purple Tomato Farmers Market's new tasting room in Lincoln, NH and Hermit Woods Winery in Meredith, NH.
ENJOY A DIVINE DINNER ON A TRAIN
The Café Lafayette Dinner Train in North Woodstock brings you a scenic and culinary experience unlike any other. During the two-hour round-trip train ride, you can take in the natural beauty of the Pemigewasset River and the surrounding White Mountains. Enjoy perfectly paired domestic and international wines with a dinner created by an onboard chef. All aboard, and bon appetit!
TAKE A ROMANTIC BOAT RIDE
Bring a bathing suit, food, and beverage of choice, and let Experience Squam Boating Excursions in Holderness, NH handle the rest. Enjoy a spectacular sunset while cruising the lake or relax under a full moon and a canopy of stars. Experience Squam will provide a cooler, ice, cups, bottle opener, towels, and blankets.
WATCH THE SUNSET FROM THE TOP OF A MOUNTAIN
Almost any mountain will do for this beautiful adventure! If you're looking to impress with a grand view minus a lot of effort though, shorter hikes are a safe bet. Two great options include the 1.5-mile loop trail to the top of Franconia Notch's Artist's Bluff (if you're on the western side of the White Mountains) or the 0.9-mile out and back trail up Foss Mountain in Eaton, NH (for those on the eastern edge of the Whites). Bonus points if you bring a local brew to the top and propose a toast to your delightful date.
Have you already hiked one (or both!) of our recommended trails? See if any of these other trails in the White Mountains make your heart go pitter-patter.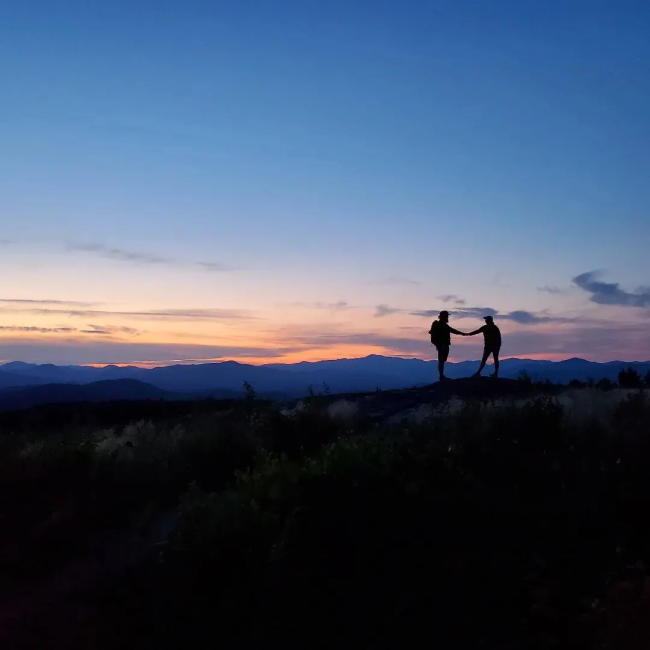 (Photo Credit: @agetch8 | Instagram)
RIDE A HORSE THROUGH THE WILDERNESS
Lovers and horse lovers alike, get ready for some equine enchantment. The reliable steeds at Franconia Notch Stables (Franconia, NH) and the Omni Mount Washington Resort (Bretton Woods, NH) are ready and waiting to take you on a tour through the wild fields and forests of the White Mountains. Your mission, in between taking in those beautiful views? Memorizing the smile on your happy date's face! 
PICK YOUR OWN BLUEBERRIES
Head to Windy Ridge Orchard in North Haverhill NH for your next romantic rendezvous. Here, you can pick your own blueberries amidst an idyllic farm setting and plot just how to use your freshly foraged goodies. Maybe bake a pie together? Or toss them atop a dish of local ice cream? We'll leave the best part up to you!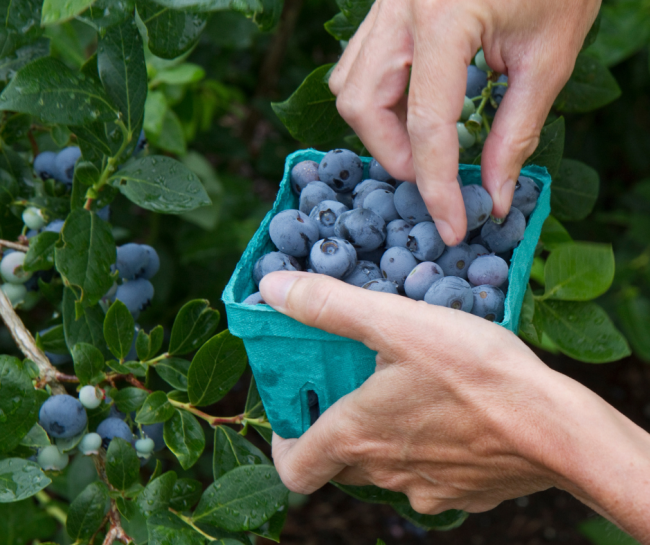 STEAL A KISS WHILE KAYAKING
Is there anything more romantic than a sunset paddle on a pristine lake? Whether you choose to take a guided tour, book a private tour for yourself and a few other couples, or simply rent your own kayak, North Country Kayak in Bethlehem, NH will get you out on the waters of scenic Moore Reservoir and ready for all those rosy memories.
SPOT A MOOSE
If you're after a signature White Mountains experience, spotting a moose is a must! Up your chances by booking a moose tour with the pros. You have your choice of Pemi Valley Moose Tours in Lincoln, NH, Gorham Moose Tours in Gorham, NH, or North Conway Moose Safari Tour in North Conway, NH. All depart a little before dusk and take approximately 3 hours, meaning you'll have plenty of time for hand-holding in between oohing and aahing at each moose spotted.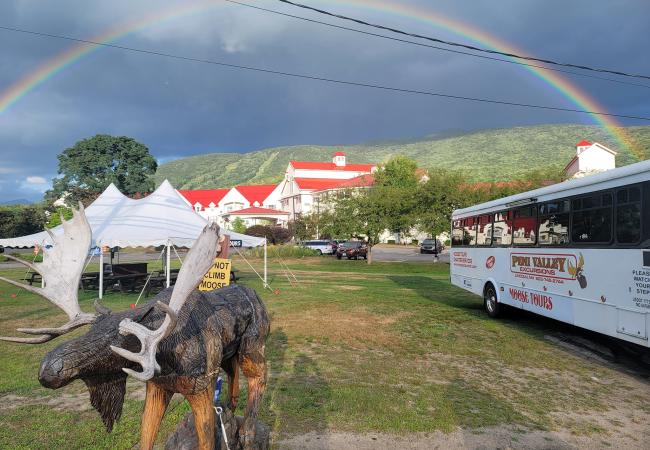 (Photo Credit: Pemi Valley Moose Tours)
CONQUER A CORN MAZE
Grab your boo and some hiking boots and bring your sense of adventure – the Great Vermont Corn Maze is calling! This North Danville, VT behemoth is less than an hour's drive from much of the White Mountains and has 24 acres of twisting corn paths to navigate. The typical corn maze experience takes about 3 hours to complete. Those after a shorter adventurer should opt for the Scenic Maze (which takes 40 minutes to complete and offers directions supplied along the way).
Weather dependent. Call 1 (802) 748-1399 for more information.
(Photo Credit: Great Vermont Corn Maze)
STARGAZE ON THE KANCAMAGUS HIGHWAY
No classic New Hampshire romance is complete until you take a drive across the Kancamagus Highway with your true love by your side. Travel this famous 34.5-mile scenic byway from east or west, and you'll find a multitude of scenic viewpoints during daylight hours. But we'll let you in on a little secret....our favorite views of the Kanc are up above the roadway at night when the stars shimmer and the mountaintops lay in shadow. Those seeking a little extra magic can also look for the silhouette of the Heart Tree at the Hancock Overlook (just past the hairpin turn if you're driving east from Lincoln).
Are you still looking for more date night options? Our Trip Ideas section is a great place to start. Don't forget to book accommodations and a place to eat while you're at it!