It's May – hooray! The start of this new month puts us one step closer to visiting all the best attractions in the White Mountains. Ride a historic train alongside rushing rivers. Slide down a zipline as the buds of spring begin to bloom. Chug to the top of the tallest mountain in the Northeast, taunt Wolfman, and crawl through an icy cave.
Whichever way you choose to play, start booking your tickets for summer adventures NOW. Keep reading for a full breakdown of 2022 opening dates, including Memorial Weekend schedules. We'll see you out there, White Mountains fans!
ALPINE ADVENTURES (Lincoln, NH)
Book an epic experience before summer heats up, and head to Alpine Adventures in Lincoln, NH. You'll have your pick of a guided Side x Side tour, the aerial challenge course known as Thrillsville, and ziplining through the forests of the White Mountains.
Come May 14th, Alpine Adventures adds another option to your bucket list: one of their exhilarating Off-Road Tours aboard a rugged, bouncy Pinzgauer. The Off-Road Tours take approximately 1.5 hours and traverse to the top of scenic Barron Mountain, so don't forget to bring that camera and hold on tight!
Reservations required for zipline tours, and highly encouraged for all other experiences.
CANNON MOUNTAIN AERIAL TRAMWAY (Franconia, NH)
Ketchup or Mustard? The good news is, either vividly colored tram car will get you to the top of Cannon! Book your tickets online now for a chance to ride the famous Cannon Mountain Aerial Tramway to 4,080' feet in elevation – the first ride of the season starts Friday, May 27th.
If you missed your ticket for opening day, you have until October 16th this year to take your trip to the top. Between the short walking path winding along the summit of Cannon to the viewing platform and windswept views of Franconia Ridge, any day is a great day to ride the Tram.     
CLARK'S BEARS (Lincoln, NH)
Ready to meet Wolfman, climb the Old Man of the Mountain, or take a slide down the Anaconda Escape? Book your tickets for Clark's Bears in Lincoln, NH, and you'll get to do all that and more!
This iconic attraction is open Saturday, May 28th through Monday, May 30th for Memorial Day visitors. On June 18th, Clark's takes it to the next level with daily summer operations. We can't wait to explore their old-time main street, ride the train through Wolfman's territory and get ready for some hollering, and see some of our all-time favorite bears.  
Online tickets highly recommended. Book your tickets in advance on the Clark's Bears website.
CONWAY SCENIC RAILROAD (North Conway, NH)
All aboard for a historic train tour! On weekends through May 22nd, the Conway Scenic Railroad is offering weekend excursions to the village of Conway, as well as a trip along the Sawyer River.  After that, daily summer service kicks off on Tuesday, May 24th!
If you're looking to take one of the popular Mountaineer train tours through gorgeous Crawford Notch, visit the Conway Scenic website to review available dates and purchase advance tickets online.
CRANMORE MOUNTAIN RESORT (North Conway, NH)
Make Memorial Day weekend something to remember and book a lift-serviced downhill mountain biking session at Cranmore Mountain Resort's Mountain Bike Park. There are trails for all ability levels, plus a Mountain Adventure Park for those less inclined to peddling. In the Mountain Adventure Park, visitors can fly down Cranmore's slopes while riding the Screaming Eagle, try out some summer tubing or take a few flips on a trampoline.
Cranmore's operations are weekends only, May 28th through mid-June. From Father's Day onwards, the Mountain Bike Park, Mountain Adventure, and Scenic Chairlift to the top of Cranmore are open for daily operations.
THE FLUME GORGE (Lincoln, NH)
May 13th is just a week away – are you ready to take a tour through the famous Flume Gorge? Franconia Notch State Park is home to many wonders, but we always make the Flume our first stop. With its towering rocky walls, cascading water, and wood boardwalks, there's nothing quite like the feeling of walking the 2-mile loop through this natural wonder.
If visiting the Flume Gorge has been on your to-do list for quite some time, reserve a time slot for your visit on the NH State Parks website. The Flume Gorge is open daily through October 23rd.
HOBO RAILROAD (Lincoln, NH)
Pack a picnic lunch and book your tickets for the Hobo Railroad! We love the laidback, vintage vibes of this throwback train, as well as the serene views of the Pemigewasset River, found just steps from the train tracks. For the full experience, you can't go wrong bringing some local picnic snacks, as well as taking a few scenic snapshots during the ride.
The Hobo opens for weekends-only excursions, Memorial Day weekend through June 19th. After that, daily summer operations commence Friday, June 24th!
For more picnic-perfect spots in the White Mountains, click here.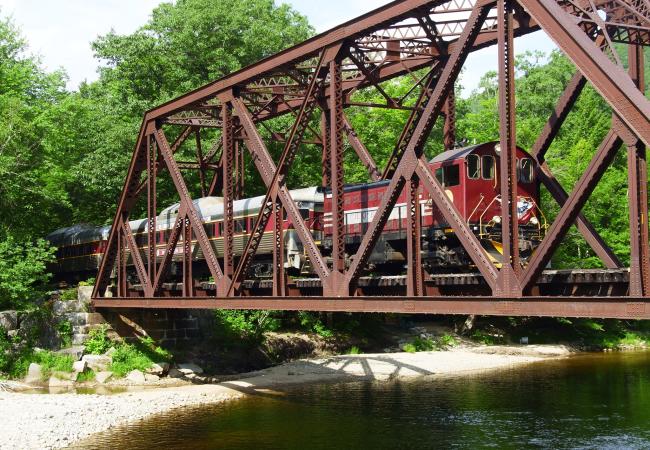 LOON MOUNTAIN RESORT (Lincoln, NH)
Loon Mountain Resort is one of the top attractions in Lincoln, NH, and that includes its summertime offerings. Take a trip to the summit for epic views as part of the Gondola Skyride experience, or try out the expansive Kanc8 chairlift for lift-serviced mountain biking – both options will give you a new perspective of the town, as well as the urge to summit more peaks in the White Mountains. Want to skip the lift? The Adventure Center has a bungee trampoline, zipline, and climbing wall!
Loon's Gondola Skyride is weekends only, May 28th through June 26th. The Mountain Bike Park is weekends only (plus select days), May 27th through June 19th. The Adventure Center is open June 30th through September 5th, Mondays – Thursdays.
Visit Loon's website for a full summer schedule, including hours and days of operation for all offerings, as well as reservations.
LOST RIVER GORGE & BOULDER CAVES (North Woodstock, NH)
Adventurous families, look no further: Lost River Gorge & Boulder Caves in North Woodstock, NH is the perfect kid-friendly activity in the White Mountains.
Crawl through 11 boulder caves and see if you can pass the infamous Lemon Squeezer test. Stroll 1 mile of wood boardwalk perched above the Lost River, and marvel at moss-covered rocks and woods before taking a selfie inside the Giant Birds Nest. Best of all? Lost River Gorge opens Friday, May 6th and is available to visit every day except Tuesdays and Wednesdays through June 9th. After that, daily operations resume for the summer season.
Is it your first time visiting? Book your tickets online, wear practical, close-toed shoes, bring layers, and keep in mind that this time of year, some select caves will not be navigable due to spring runoff.
 After you've wrapped up reading this blog, click the video at the bottom for a sneak peek at opening day preparations for Lost River Gorge & Boulder Caves!
MT. WASHINGTON AUTO ROAD (Gorham, NH)
The famed snowpack of the White Mountains lasts a lot longer at higher elevations, and that includes Mt. Washington Auto Road. The road is slated to open mid-May for visitors looking to drive their own vehicles to the top of Mount Washington, but be sure to check the Auto Road's website for the latest updates (as the road is still being cleared).
Guided tours will be available May 28th to October 23rd and are quite popular, so if you're looking for a guaranteed trip, reserve your spot in advance online!

MOUNT WASHINGTON COG RAILWAY (Mount Washington, NH)
If the Mount Washington Cog Railway is on your White Mountain to-do list, you're in luck: the Cog is open year-round, seven days a week!  
Trip durations and destinations change depending on the weather and the amount of snow dusting Mount Washington, but each journey offers plenty of visually stunning moments. Our favorite part (besides the view)? Letting our feet dangle during the return journey back down the mountain and marveling at the steep angle each train can tackle with the assistance of a few mighty cogs.
Book your tickets online ahead of time if you want to guarantee a seat – the Cog Railway is one of the most popular places to visit in the White Mountains.
The snow is melting, so if you want to get a good idea of what a frosty excursion is like on the Cog Railway, read through one of our favorite blog posts from this past winter season.
POLAR CAVES PARK (Rumney, NH)
Have you ever explored cliffside caves? Polar Caves Park in Rumney, NH has an amazing mix of granite boulder caves to crawl through, as well as a small animal park complete with a herd of adorable fallow deer, and a log cabin gift shop filled with all kinds of White Mountains souvenirs.
Polar Caves Park opens May 14th, Fridays through Sundays. On June 17th, this amazing spot switches to summer operations and is available to visit daily. Book your tickets online ahead of time if you want to guarantee a spot during your visit!
SANTA'S VILLAGE (Jefferson, NH)
The magic of Christmas is something we love even during summer, and Santa's Village in Jefferson, NH brings those happy vibes like nowhere else. Dash around the park and find all the elves, or feed a reindeer. Pack your swimsuit and cool off at the polar-themed water park. Whichever activity sets your heart alight, Santa's Village is one of the most family-friendly activities in the White Mountains!
Santa's Village opens May 28th, and runs weekends only through June 12th. Daily operations commence June 18th. Attendance is limited, and all single-day visitors must purchase an online pass ahead of time (no gate sales available).
STORY LAND (Glen, NH)
Fairytales come to life is just one part of the allure of Story Land, a Glen, NH institution since 1954. Expect characters in costume, the surprisingly swift Roar-O-Saurus wooden rollercoaster, throwback rides for the kiddos, and plenty of nostalgia to go around. When you're planning your visit, keep in mind that Story Land just made the switch to cashless operations park-wide.
Story Land opens May 28th for weekends only through June 12th. Starting June 18th, Story Land is open daily, rain or shine!
WHALE'S TALE WATERPARK (Lincoln, NH)
When you think of the White Mountains, how often do you think "water park"? Whale, that's about to change! Whale's Tale Water Park in Lincoln, NH is a spectacular spot for water enthusiasts looking to cool off with a view. Heart-pounding slides, a playful wave beach and lazy river, and a simulated wave to surf are just a few of the aquatic wonders waiting at Whale's Tale.
Whale's Tale Water Park opens June 18th for daily summer operations!
Our website regularly updates the operating hours for all major Attractions in the White Mountains; feel free to use this list as a trip planning resource. While you're at it, why not scroll through some of the best lodging and dining in the White Mountains? Trust us, there's plenty of trip-worthy stops!
Let's Get Ready for Opening Day with Lost River Gorge! Click the video below.