In the White Mountains, we're not really known for our nightlife. But what if we upend the concept of "nightlife"?
Instead of high heels, swap in snow boots. Forget the throbbing bass and glittering lights of a club, and switch it up for starlit skies and the hoot of an owl tucked away high in the winter trees. Cocktails and local beer and wine are still a must in the mountains, as is bringing your crew along for the ride. But what can we say? The White Mountains is home to a different kind of nightlife. It's for peaceful souls and adventurers alike, for lovers of the unexpected, and it's waiting for you to uncover after dark!
Keep scrolling for our roundup of the best nightlife in the White Mountains, winter edition.
NIGHT SKIING
When the sun dips down below the mountains, most skiers retire for the evening. Might we suggest giving your usual routine the shakeup? Snag a coffee midafternoon to power up, then head to a nearby ski resort for a rousing round of night skiing. Great options include Cranmore Mountain Resort in North Conway, NH (for shadowy views of the peaks surrounding Mount Washington Valley) and Gunstock Mountain Resort in Gilford, NH (which offers stellar views of Lake Winnipesaukee as the sun goes down).
Visit Cranmore and Gunstock's respective websites for tickets, night skiing hours, and more.
(Photo Credit: David Krzywicki)
FIRESIDE CHATS
Calling all outdoor enthusiasts; if you've been searching for a way to connect with a community of like-minded wanderers while also staying cozy and warm, register for one of The Notch Hostel's Winter Fireside Chats! Expect local luminaries of the hiking community, engaging presentations, and a new take on nightlife at this North Woodstock, NH hostel, as well as the option to attend virtually if you'd rather stay tucked in at home.
Head to The Notch Hostel website for additional information, including upcoming dates, featured speakers, and registration.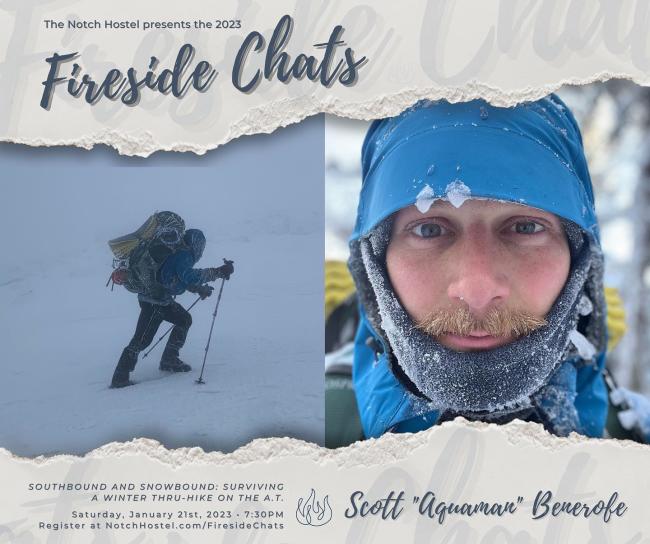 CASTLE WALKS
Ice Castle walks, to be specific! Each winter in North Woodstock, NH, the ice takes on some unexpected shapes, like tunnels, turrets, slides, and fountains. Sure, it's a manmade wonder, but does that make it any less wondrous? Taking a tour of Ice Castles is a must if you're in town, and particularly so if you're planning to visit at night when the structure is illuminated in ever-changing rainbow colors.
FYI: Families with young kids and early bedtimes can always opt for a daytime session (which often means fewer crowds and warmer temps).
Ice Castles is a seasonal experience. For opening dates, hours, and tickets (which we highly recommend purchasing online ahead of time), please visit the Ice Castles website. Watch our Reel for a sneak peek at Ice Castles at nighttime.
NIGHT SNOWSHOEING
"And into the forest I go, to lose my mind and find my soul"…John Muir had the right idea with that immortal quote. Take to the woods at night with a pair of snowshoes strapped to your feet and you'll see how the quiet of a winter forest can lift the spirits like no other activity. Great Glen Trails Outdoor Center in Gorham, NH offers evening snowshoeing sessions guided by an Appalachian Mountain Club (AMC) naturalist. As you traverse the woods at the base of the Presidential Range with a pro, you will use all your senses to see and hear the nightlife of the natural world.
Those looking to try out snowshoeing closer to the Lakes Region can always book a guided AMC Full Moon Snowshoe to West Rattlesnake Mountain in Holderness, NH.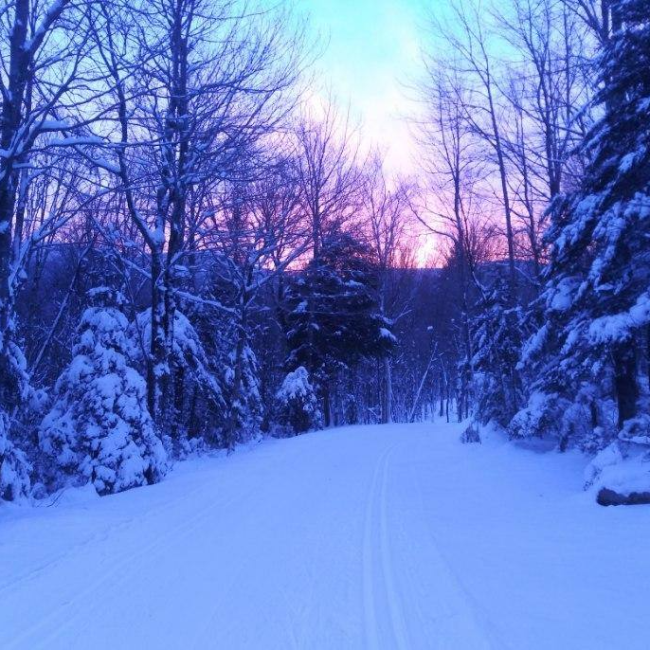 Photo Credit: Great Glen Trails Outdoor Center Facebook
ICE SKATING
Ice skating is a classic winter activity in the White Mountains. To make it all the more memorable, we'd recommend visiting the ice at night! There are several outdoor rinks that offer evening skate sessions, including RiverWalk Resort in Lincoln, NH (rentals available onsite) and Schouler Park in North Conway, NH (bring your own skates). A little bit further south, Waterville Valley Ice Arena (Waterville Valley, NH) offers indoor public skating sessions.
Note: outdoor skating rinks are weather dependent. Remember to look up public skating times, as well as info on pricing for rink admission and skate rentals, prior to departure.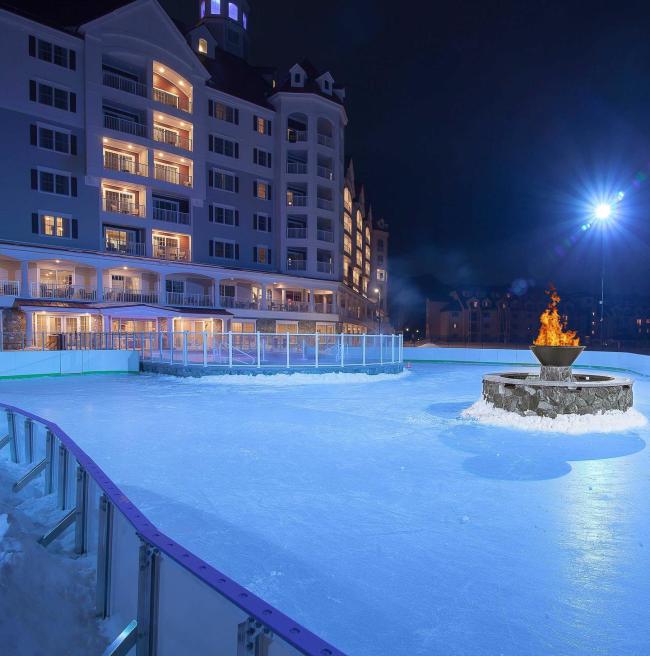 Photo Credit: RiverWalk Resort at Loon Mountain Facebook
BAR HOPPING
If we haven't sold you on our take on nightlife by now, we'll give a nod to the traditional with this last idea: grabbing a few drinks in your town of choice! Our après ski blog is a smart place to start if you're looking for local watering holes. There are breweries and wineries spanning our region, as well as cideries and local markets in Lincoln and Littleton offering take-home tours of the best drinks in the White Mountains.
Be sure to designate one of your party as driver for the evening. Ride share options and taxi services are limited in the White Mountains.
That's a wrap on our winter nightlife, night owls! While you're out and about, remember to add #yeswhitemountains to your posts if you'd like the chance to be featured in our future print or digital campaigns. And if nighttime just isn't your thing, check our these fun ways to play outside during winter in the daylight hours.