Summer is the perfect time to take to the skies, or rather, ride through the sky! With grand views of the White Mountains all around, gem-like ponds glimmering below, and birds testing thermals right beside you, there's nothing more thrilling than gliding along in a gondola, chairlift, tram, or sliding past the trees on a zipline.
Keep reading for a list of the best scenic rides in the White Mountains, then head to the "Plan Your Visit" tab on our website for additional resources to make your summer adventures one for the record books.
ALPINE ADVENTURES (Lincoln, NH)
Alpine Adventures in Lincoln, NH has all kinds of adrenaline offerings. Their Pinzgauer off-road tours or guided Side x Side rides will certainly leave you breathless, but for a taste of the sky, sign up for a zipline ride.
Alpine has an industry-leading series of zips and two pulse-pounding tours to choose from. The Tree Top Canopy Tour is your best bet for first-timers and families, while the Skyride Tour starts off with a daring zip from 70 feet up in the trees and includes a dual racing zipline and soaring up to 250 feet above the forest floor before its conclusion.
Both zipline tours take approximately two hours to complete and are very popular in the summer months; online reservations are highly recommended. For more information, including weight and height restrictions, head to the Alpine Adventures website.
CANNON MOUNTAIN AERIAL TRAMWAY (Franconia, NH)
It doesn't get much more classic than taking a trip to the top of Cannon Mountain aboard the Cannon Mountain Aerial Tramway.
The ride up does include a fair amount of mountain air between your feet and the forest floor, so those scared of heights should spend their time listening to the tour guide's narrative and waving at your fellow passing tram. Cannon runs two -- one painted bright red and the other brilliant yellow, aka Ketchup and Mustard for those in the know.
Once you reach the summit building, take some time to explore the small loop trail waiting just outside; along the way, you'll discover multiple scenic viewpoints of Franconia Notch that are oh so selfie-worthy. Pro tip? Set aside time to climb to the top of the 360-degree observation deck for an even better perspective! After that, check out the café for some quick snacks or plan your visit to the free New England Ski Museum building at the base of Cannon.
As with many of our White Mountains Attractions, online reservations are highly recommended for this experience. Visit the Cannon Mountain website for more information
CRANMORE MOUNTAIN (North Conway, NH)
A chairlift ride and ice cream cones, right smack dab in North Conway? Yes please! The Scenic Chairlift ride at Cranmore Mountain Resort is summer paradise found.
Each chair accommodates 4 people, meaning the family can all share in oohing and aahing at the views during the 7-minute ride to the top. Make a beeline to the historic Summit Meister Hut to grab lunch or the aforementioned ice creams, and then snag a spot on the deck overlooking Mount Washington Valley. You'll find a new kind of serenity, high on the slopes of Cranmore.
If you're looking to fill up a full afternoon after your ride back down the hill, we'd recommend tackling Cranmore's Mountain Adventure Park (which includes a climbing wall, summer tubing, a bungy trampoline, and more) or booking a downhill mountain biking class.  
For more information on all on-mountain activities, including pricing, head to the Cranmore Mountain Resort website.
LOON MOUNTAIN RESORT (Lincoln, NH)
Lincoln, NH is home to Loon Mountain Resort and one heck of a view! Head to Loon's slopes and take a ride up the Gondola Skyride to maximize your scenic snapshots minus any grueling hikes.
While this ride is touted as New Hampshire's longest scenic gondola skyride, the 1.5-mile journey to the top is smooth and swift, leaving passengers with plenty of time at the top to explore. Herbert's Observation Tower, located just to the right of the gondola on exiting, offers views all the way from Mt. Moosilauke to Mount Washington, while the nearby summit amphitheater offers a different perspective of life high in the White Mountains. Don't miss the glacial caves at the top too; they're the perfect way to cool off on hot summer days.
A great option for those looking to linger at Loon post-gondola ride is the Up & Away package, which combines your Gondola Skyride ticket with access to the climbing wall and zipline located at the base of the mountain. The zipline in particular is a standout, giving riders the chance to zip 750 feet across the sparkling waters of the Pemigewasset River. 
Guarantee your trip to the top! Book your Gondola Skyride ticket on Loon's website prior to your visit. 
WILDCAT MOUNTAIN (Gorham, NH)
Wildcat Mountain's Scenic Chair is all about the view from 4,062'. Head to Pinkham Notch and this Gorham, NH ski resort for one of the best views of Mount Washington that we've ever seen, complete with a summit sign to pose behind and a short trail to the tippy top of the mountain.
One of our favorite activities to do post-chairlift ride is a quick walk along the Way of the Wildcat Trail (approximately 1 mile). To extend your hike, bear left at the trail junction to visit Thompson Falls, one of our top waterfalls in the White Mountains.
Wildcat Mountain is open weekends through 9/4 for scenic chairlift rides.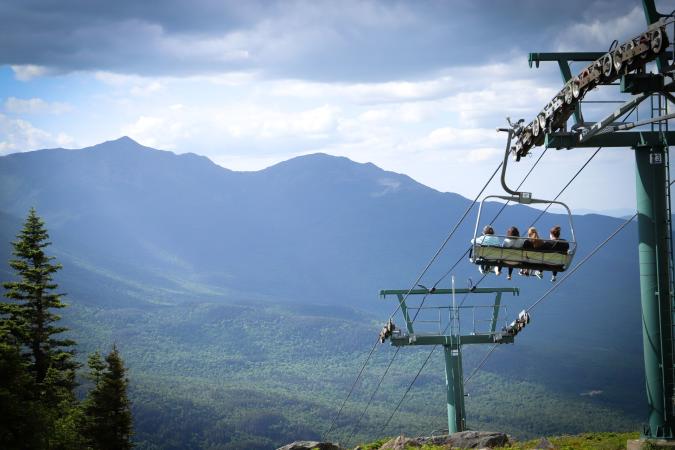 Photo Credit: Colleen Eliason
If you're planning on staying for a few days in our region, we'd also suggest checking out the best amusement parks in the White Mountains, taking a few short waterfall hikes, or grabbing some ice cream at our favorite local stops. Summer is calling – we'll see you up here!