Summer fun is all about making memories at home and afar. If your travels bring you to the White Mountains this time of year, we have a signature experience you just can't miss – visiting our amazing amusement parks!
These four special spots are the stuff that childhood memories and family traditions are made of. From getting hollered at during an old-fashioned train ride and watching black bears catch a basketball to dashing through a Christmas-themed wonderland, riding a wooden dinosaur-inspired rollercoaster, or learning to surf right in the mountains, we can't get enough of our amusement parks.
Keep scrolling to see which park is right for you and the fam. (Secretly, we're hoping you'll visit all four of our family-friendly amusement parks in New Hampshire during your tour!)
CLARK'S BEARS (Lincoln, NH)
Clark's Bears, located in Lincoln, NH, is home to vacation traditions dating back decades. As the name suggests, this ursine attraction does indeed have bears – trained, beloved black bears who are regularly asked after by name thanks to repeat visitors.
In addition to Clark's signature bear show, this outstanding amusement park boasts an adorable mini main street complete with museums, gift shops, and snack bars, the Anaconda Escape (a daring waterslide), a Segway park and blaster boats, and many more diversions. The highlight for many, though, is the legendary Wolfman. If your kids love train rides and questionable characters with loud voices but a soft side, take the train ride through a historic covered bridge and into Wolfman's territory. The phrase "scram, you old goat!" will quickly become part of your vacation vernacular, with plenty of laughs to go round.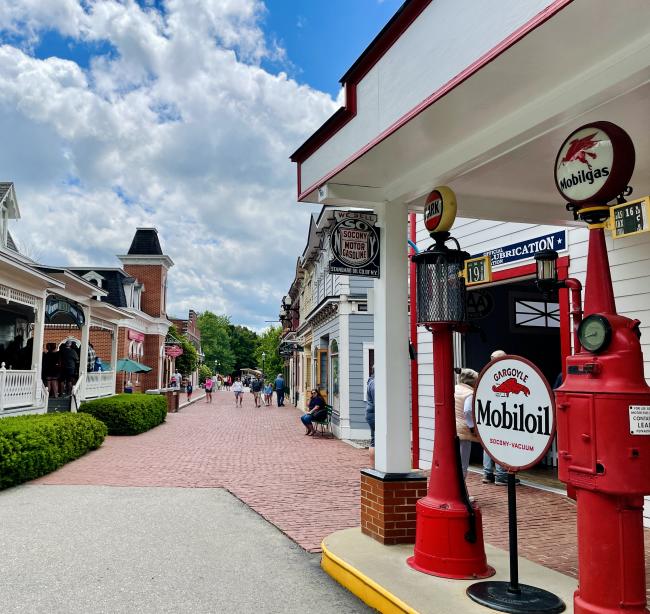 Photo Credit: Caitlin P. Farrar
SANTA'S VILLAGE (Jefferson, NH)
Christmas in July sounds heavenly, but what about Christmas all summer long? With its whimsical structures, Christmas-centric soundtrack, and cast of enthusiastic elves, a visit to Santa's Village in Jefferson, NH will have you feeling that Yuletide spirit no matter the outside temps.
The rides at this park range from toddler-friendly to big-kid-worthy, and include everything from the Ho Ho H2O water park and Reindeer Carousel to the thrilling Chimney Drop and instantly addicting Humbug Adventure (a Gremlins-meets-Christmas experience, minus anything too scary).  Our favorite attraction at this amusement park? The Reindeer Rendezvous! Give Santa's reindeer a few yummy snacks and hearty scratches, and consider it a great start to dashing off in the throes of Christmas cheer at this immersive, wondrous spot.
STORY LAND (Glen, NH)
Story Land in Glen, NH is a fairy tale come to life, and a perfect fit for the whole family! Take a twirl in the Cuckoo Clockenspiel to feel like a storybook character in the midst of a grand adventure or attend teatime with Cinderella herself. Cool off with a plunge on the Bamboo Chutes, conquer a classic fairground game, or perfect your velociraptor cries as you twist and turn aboard Roar-O-Saurus, the only wooden rollercoaster of its kind in northern New England. Also keep an eye out for roaming characters throughout the day, and a special Dunkin' Donuts for parents looking to perk up mid-adventure.
Story Land's website is a great resource for planning your visit, with intensity indicators to let you know which rides and activities are the best fit for your kiddos. Don't miss the Woman in the Shoe for a fun sticker to kick off the start of your trip, and visit Story Land's big photo frame (right near the entrance) to snag a snapshot you'll reminisce over for years to come. 
WHALE'S TALE WATER PARK (Lincoln, NH)
Have a whale of a good time at another fantastic amusement park in Lincoln, NH.
This one is Whale's Tale Waterpark, and we're utterly enthralled with its thrilling slides, restful cabanas, and super-unique simulated surfing wave. Fan favorites at this summertime park include Eye of the Storm, a round behemoth where kids try to stay circling the drain as long as possible before their plunge in the pool waiting below, and Poseidon's Voyage (which features a trap door drop into an adrenaline-boosting 360-degree turn).
Those looking for something a little more mellow can always spend their time at the Oasis Beach Bar, sample snacks at each on-site dining location, or spend the day floating along Whale's Tale's very own lazy river, Jonah's Escape. Just make sure the kids get plenty of time to explore Shipwreck Island or Whale Harbor!
It's easy to see that amusements abound when you make your escape to our region. So grab your family, pack up that car, book a place to stay, and we'll see you at one (or all!) of our favorite amusement parks in the White Mountains.
Staying for a few days? Add in some swimming holes, waterfalls, or interesting geologic spots to your agenda!
Got a few minutes? Watch our latest Reel to explore these parks a bit more. 
.