March is New Hampshire Maple Month, and we couldn't be more excited! While every day of the year is perfect for fat stacks of pancakes and hearty pours of maple syrup, when the snow starts thawing and the sap starts flowing, life in the White Mountains is even sweeter. This year, the perfect time to visit is March 18th & 19th (aka Maple Weekend).
In honor of this special season, we're extending the tastiest of challenges: tap into a new tradition and visit some of the best sugar shacks in New Hampshire!  
FADDEN'S GENERAL STORE &  MAPLE SUGARHOUSE (Woodstock, NH)
While Maple Month extends all the way through March, many local maple syrup producers celebrate in earnest on Maple Weekend. This includes the iconic Fadden's General Store & Maple Sugarhouse in North Woodstock, NH, family owned and operated since 1896.
Over the years, Fadden's has garnered many "Best Of" blue ribbons and trophies for its maple syrup. Walking through the general store, with its old floorboards, vintage photos, and maple-themed products, is like taking a step back into NH's history. Expect taxidermy moose, heaping piles of kettle corn coated in maple syrup, and fanciful souvenirs, as well as a friendly pup eager for a few scratches before you take you maple tour.
During Maple Weekend, visitors will learn how tree sap becomes maple syrup and also sample some exclusive Maple Weekend treats. Sugar on Snow, maple cotton candy, and plenty of syrup tastings make this North Woodstock stop well worth the trip. The general store in North Woodstock is open 7 days a week for all your favorite maple needs.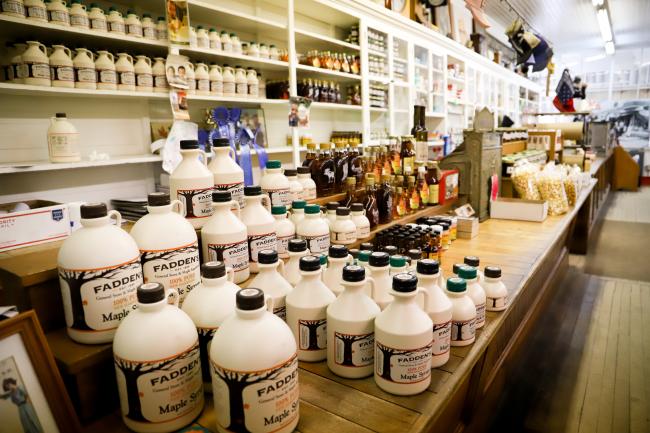 (Photo Credit: Colleen Eliason)
THE ROCKS (Bethlehem, NH)
For some visitors, maple treats are the main draw. For others more inclined to the story behind the syrup, a visit to The Rocks in Bethlehem, NH is a must. This working farm isn't just a place to cut your own Christmas tree – it's also a great local producer of the sweet stuff!
If your schedule is looking open for the last three weekends in March (or first weekend in April), book your tickets for The Rocks' signature event, the NH Maple Experience. Learn the history of maple sugaring and maple tree identification. Take a horse-drawn tour of the maple lines, ride a tractor to the sugar house, and enjoy a maple tasting, complete with donuts and even sour pickles!
The NH Maple Experience tour takes about 2 hours. Walk-ins are welcome, but we'd recommend securing your tickets online ahead of time if you're making a special trip just for this activity.
If you are planning a weekend stay, the Rocks has partnered with some of the area's hotels for a sweet accommodations package.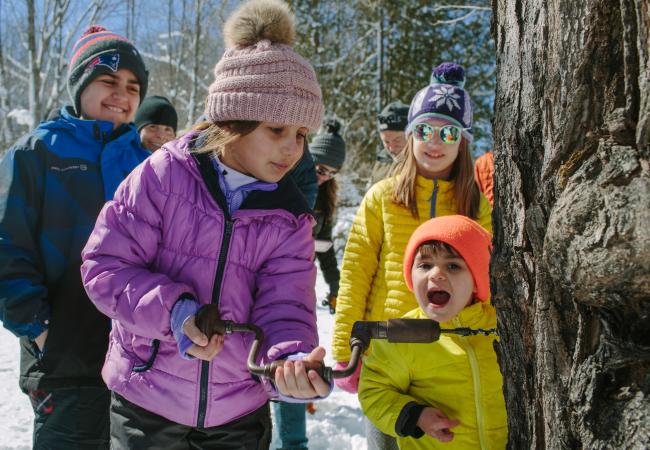 (Photo Credit: Emily Lord-Forest Society)
FULLER'S SUGARHOUSE (Jefferson & Lancaster, NH)
Fuller's Sugarhouse is celebrating quite the milestone this year.  This family-owned and operated business will be celebrating 50 years of boiling and selling delicious maple syrup and want to invite you to join in on the celebrations! While visitors are encouraged to check out their retail store on Main Street in Lancaster throughout the month of March, the weekend of March 18-19 is when the real syrup party will happen. Except friendly competitions such as syrup chugging and a sap bucket run and all-day activities including tours of the sugarhouse in Jefferson, syrup samplings, and tap demonstrations.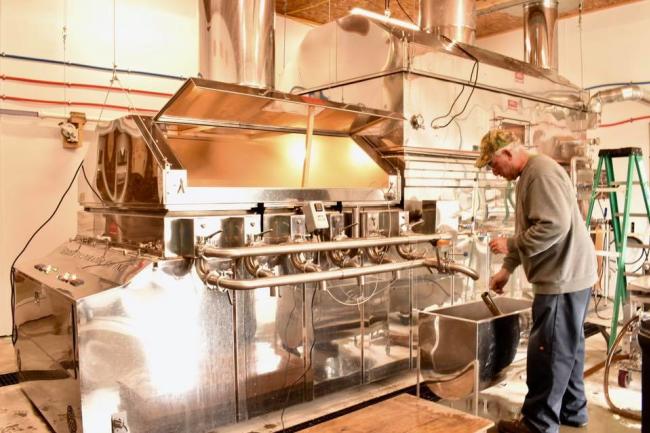 (Photo Credit: Fuller's Sugarhouse)
BELIEVE IN BOOKS SUGAR SHACK (Intervale, NH)
You may have taken a ride on their Journey to the North Pole train excursion, walked their Storybook Trail, or jammed out to live music during one of their seasonal Entertainment Series. If you haven't checked out Believe in Books 100-Acre Wood Sugar Shack, you are missing out on of their sweetest activities. Open weekends in March, stop in for a yummy maple sample, maple popcorn, and a hot beverage, and purchase some of your own maple products, made right on-site. Stay for a walk on their Maple Storybook Trail or bring cross-country skis for a trek.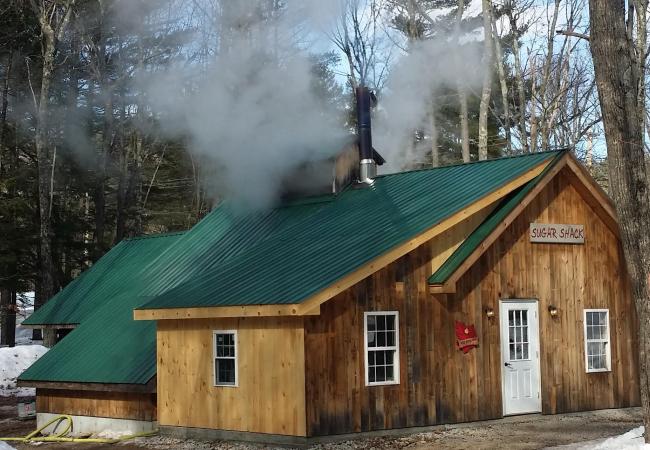 (Photo Credit: Courtesy Believe in Books)
Ready to plan your visit? Maple Weekend (March 18 & 19) is the highlight of New Hampshire's Maple Month, and the majority of sugarhouses will be open. Click through our website to explore all the best places to stay in the White Mountains; chances are, a sugarhouse is just a short drive away!
Take a tour of Fadden's General Store & Maple Sugarhouse! Click the video below.