Oh hey there, Spring! This is one of our shortest seasons in the White Mountains, but that doesn't make it any less spectacular.
If your idea of beauty is all about change, you are bound to be enchanted. Buds are popping on the tree tips while melting snow makes our waterfalls look their very finest. Mud season has made its annual return on our winding country roads and lower elevation trails, while higher up in the mountains stubborn snow and ice cling well into early summer. This is the season for adaptable adventurers, for visitors looking to see the quieter side of our well-loved region.
Whether it's school vacation that brought you here, a can't-miss Attraction, or just that nagging need to switch things up after a winter cooped up at home, the White Mountains has plenty to keep you smiling all the way through Spring.
Keep scrolling for things to do in the Spring in the White Mountains. Stay for a day or explore for several – our seasonal highlights are perfect for mixing and matching to make your own ideal adventure.
Your ticket to Spring success: plan ahead! If there's one thing we'd urge you to do above all else, it's this: do your research and make your reservations before you head to the White Mountains. Double check the hours and availability for any lodging, restaurants, activities, or amenities that you would like to enjoy. Also? Get excited for spring, but don't be surprised if you still see plenty of reminders of winter. Pack accordingly.
Day 1
Spring into the day with gusto and take to the open road!
If you're driving north on I-93, stop at our Visitor Center in North Woodstock first thing to get some insider tips from our knowledgeable front desk staff. You can also pick up a copy of our handy Travel Guide, take a selfie with our big moose or bear, and get a bird's eye view of the White Mountains thanks to our awesome 3-D map.
Questions answered, it's now on to the rest of the day…
GO SPRING SKIING OR TUBING
Within a half hour drive of the Visitor Center, you have two great options for spring skiing. Loon Mountain Resort in Lincoln, NH offers ski trails for all abilities, a scenic gondola ride, and tubing for the whole family (depending on snow conditions), while Cannon Mountain in Franconia, NH caters to those looking exclusively to ski.
Visitors officially over the snow can skip this suggestion and move on to our next adventure.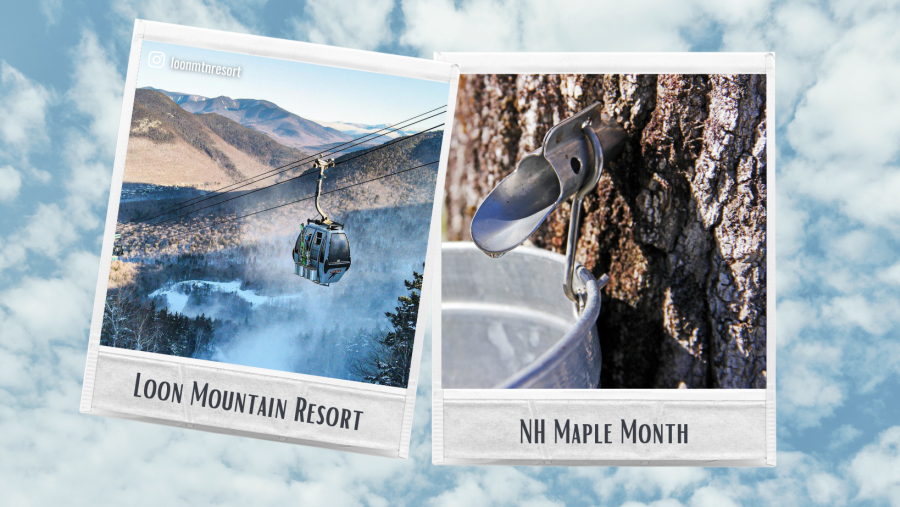 SAMPLE SOME MAPLE SYRUP
Who doesn't love maple syrup?! In case you didn't know, March is officially New Hampshire Maple Month. As the temps start to rise, the sap in our lovely maple trees starts to flow. For our intrepid maple producers, that means the time is NOW to start gathering sap, boiling it down, and bottling up some of the best maple syrup in NH.
Here's how like to celebrate Maple Month in the White Mountains…
Book your tickets for the NH Maple Experience at The Rocks in Bethlehem, NH.
Attend the 50th Anniversary of Fuller's Sugarhouse at their Jefferson, NH location.
Visit a local sugarhouse to see the sap boiling process in action. We'd suggest Fadden's General Store & Maple Sugarhouse (North Woodstock, NH), The Rocks (Bethlehem, NH), and the Fuller's Sugarhouse outpost (Jefferson, NH) to get you started.
Grab a table at one of these breakfast hotspots and smother your pancakes with the sweet stuff.
Buy a jug of maple syrup to take home at a local store.
Find a new favorite maple recipe to make when you're back home.
Happily, you can also buy White Mountains maple syrup year-round at many stores in the region.
RIDE THE COG RAILWAY
No trip to the White Mountains is complete without a journey up Mount Washington. This famed peak is also famously challenging for the average hiker (and we'd strongly discourage trying to tackle it during spring). What's an ambitious adventurer to do? Book a seat on the Mount Washington Cog Railway (Marshfield Station, NH). This mountain-climbing marvel uses a rugged cog wheel to chug chug chug its way up to nearly 4,000' during winter and spring, and you're invited to take a ride. Once you reach the Cog's newly remodeled seasonal terminus, Waumbek Station, search for signs of spring while you take in the gorgeous view.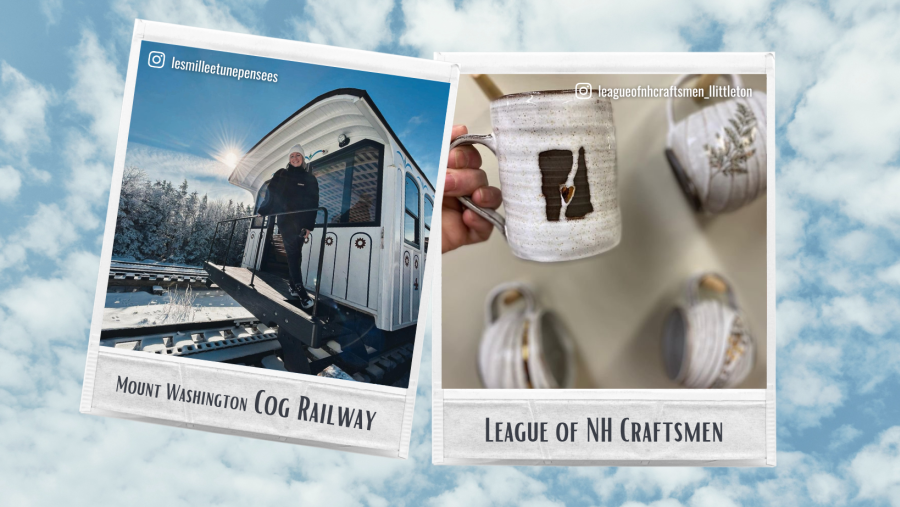 TOUR AN ART GALLERY
If you have already ridden the Cog Railway, why not dip a proverbial toe into the White Mountains arts and culture scene instead? Local Works Marketplace & The Gallery at WREN (Bethlehem, NH) and the League of NH Craftsmen (Littleton, NH) are just a short drive from Cannon Mountain or the Cog, and their stunning array of local handcrafted goods can guide your through the better part of an artistically-inclined afternoon.  As a bonus, Bethlehem and Littleton both boast charming, walkable main streets with cheery stores stocked with springtime goodies. 
TRY THE FINER SIDE OF DINING
Toast the first (or only day) of your tour with a refined dinner. We'd suggest dressing to the nines if you're craving a multi-course dinner at one of the region's historic Grand Hotels (like the Omni Mount Washington Resort or Mountain View Grand Resort & Spa).
 Not feeling the finery? A lowkey dinner can also be on the menu if you opt for a meal at one of these nearby restaurants.

Explore our top picks for nearby lodging in the White Mountains.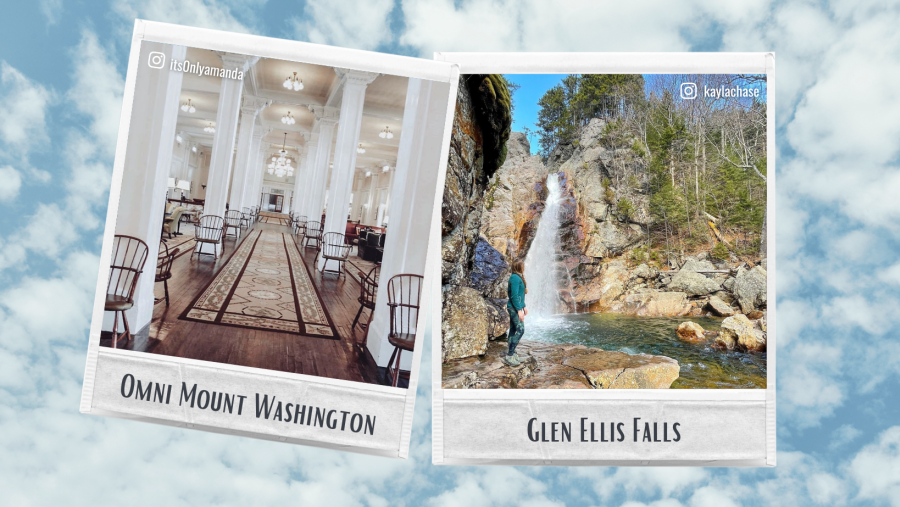 Day 2
Did you opt to stay another day? After breakfast in the northern White Mountains, it's off to the next part of our tour.
SPOT ROADSIDE WATERFALLS
Do go chasing waterfalls this morning. You can pull inspo from our popular Roadside Waterfalls Reel series or take a scenic, eastbound drive through Crawford Notch and keep an eye out for visible plunges along the way.
Those looking to stretch their legs and visit waterfalls a little more off the beaten path are also welcome to try out these 5 Short Waterfall Hikes. Just keep in mind that traction devices like microspikes, as well as a good pair of trekking poles, are an absolute MUST this time of year if you are hitting the trail. Strap a pair of snowshoes to your pack in case you encounter deep pockets of snow along the way too.
Last but not least, remember that the waterfalls are roaring in springtime. This means that nearby rocks are icy or slippery, and the water itself remains freezing cold with mountain runoff (aka you'd be well advised to take your photos from afar).
Depending on the snowpack, you might encounter parking lots still waiting to be plowed out from winter. Mark down a few waterfalls you'd like to visit on the off chance a preferred stop is not accessible during your visit.
VISIT AN AQUARIUM
If your waterfall adventures bring you over towards Mount Washington Valley, your next stop is obvious: Living Shores Aquarium (Glen, NH). This charming stop is the perfect spring activity for families visiting the White Mountains, and it's an especially great option if you're facing challenging weather during your stay. Here you can see otters, Axolotls, lorikeets, and all kinds of aquatic and reptile life, and even partake in a stingray feeding.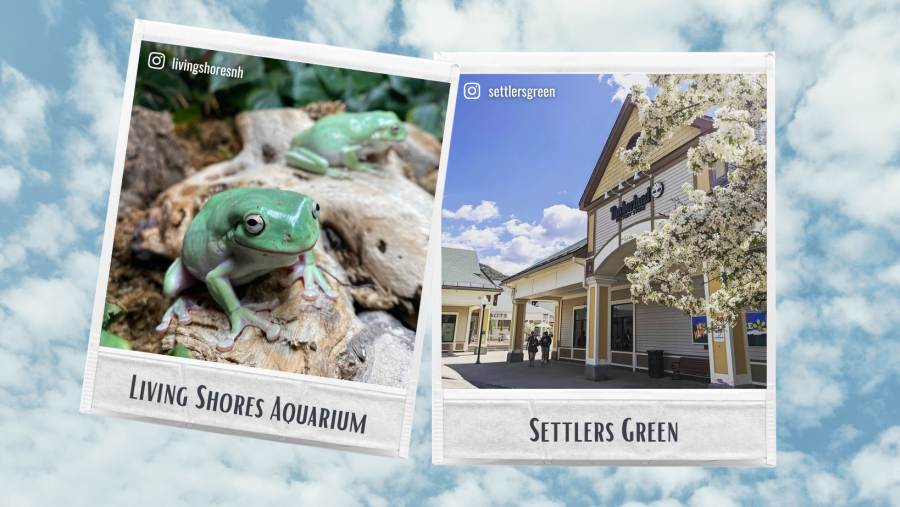 SHOP AT OUTLETS & LOCAL BOUTIQUES
North Conway, NH is consistently ranked as one of the top ski towns in the country. We'd also consider it one of the best towns for shopping too. Would you rather stroll a picturesque main street, popping into small boutiques and coffee shops along the way, or try your luck at an expansive outlet mecca with numerous lunch and dinner options? If the former, go with North Conway Village; if the latter, stay in the vicinity of Settlers Green.
WATCH A THEATRICAL PERFORMANCE
After a dinner of your choice, go see a show! The M & D Playhouse in North Conway has year-round performances and amazing local talent. This spring, the Playhouse's lineup includes everything from a retelling of The Secret Garden to a stage adaptation of Dangerous Liaisons and a Boeing Boeing, a 1960s French romantic farce. All seem like the perfect nightcap for your second evening in the mountains.

Explore our top picks for nearby lodging in the White Mountains.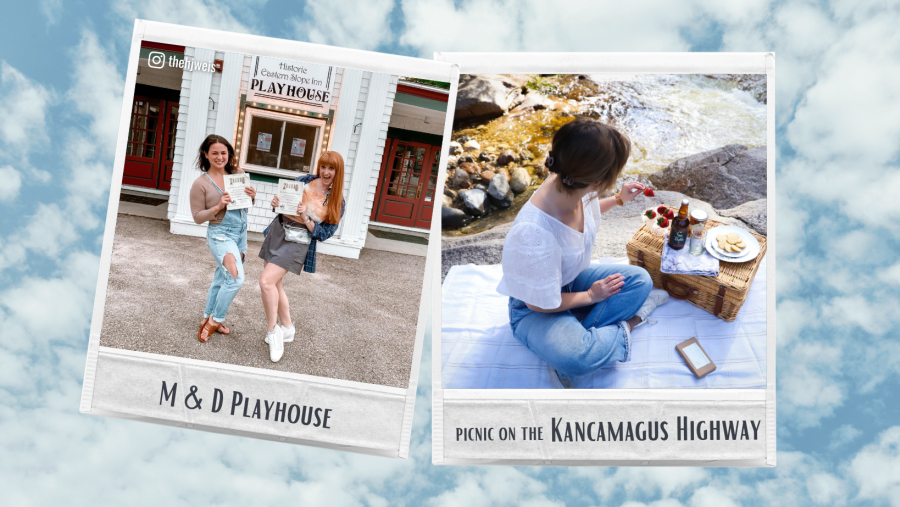 Day 3
You've made it to day three. Let's punch up the springtime vibes even more with this last, epic tour across the heart of the White Mountains.
PACK A PICNIC LUNCH
You've got a fair amount of scenic driving on the agenda today, so prepare for stops and snacks along the way and pack a picnic lunch for the journey. Local grocers in the North Conway area will have regional specialties to suit every palate. Choose your favorites and then pick a picnic spot along the Kancamagus Highway – that's where you're headed next!
DRIVE ACROSS THE ICONIC KANCAMAGUS HIGHWAY
Head west across the 34.5-mile Kancamagus Highway, and you'll quickly see why this stretch of road is recognized as a National Scenic Byway. There will be rushing waterfalls and sculpted river rocks, the Albay Covered Bridge, endless acres of trees, and outstanding views as you ascend to the top of Kancamagus Pass at 2,855'.
Along the way, we'd recommend stopping to view the exterior of the historic Russell-Colbath House and the small adjacent cemetery, taking a short walk at Lincoln Woods or Sabbaday Falls, and pulling off at every scenic viewpoint. You'll find there are many fine places to eat your picnic lunch – just remember to pack a few warm blankets, as the temperature will drop a few degrees as you travel up in elevation.
If you plan on stopping at Sabbaday Falls, wear microspikes if you see ice at the trailhead. Note, the section of the trail to view the falls from above is typically closed during early spring.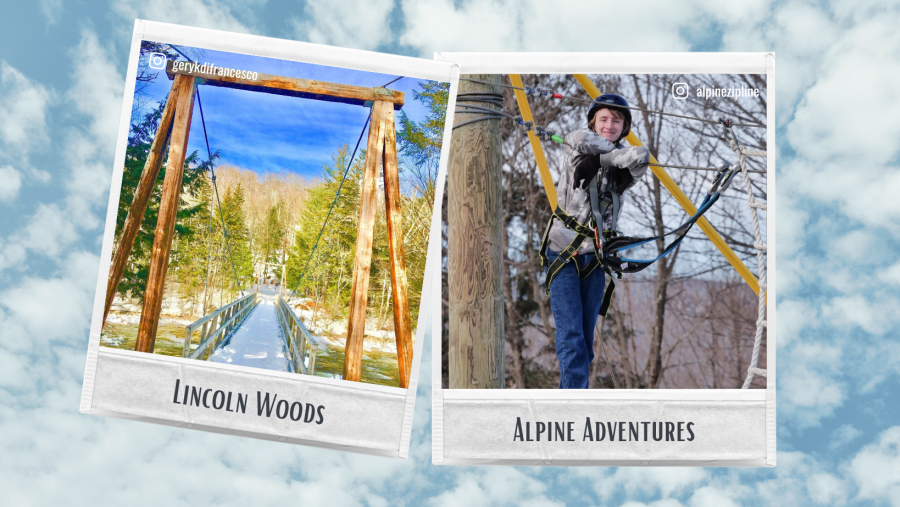 PERK UP WITH AN ADRENALINE RUSH
Do you have one more stop in you? Reenergize your day with an Alpine Adventures (Lincoln, NH) tour! Take your pick of a bumpy, bouncy Pinzagauer ride or a zipline extravaganza at nearby Baron Mountain, or keep it short and sweet with an aerial course at Thrillsville on Lincoln's Main Street. You'll find this activity leaves you with plenty to chatter about on your ride home.
Planning on going on a hike? Remember that winter sticks around much longer at higher elevations (aka, pack for snow regardless of the weather conditions found at home or at the trailhead). Each spring, many hikers have underestimated the seasonal challenges found at every elevation in our mountains. Unless you're experienced, well-prepared and well-informed, and hiking with a partner, we suggest sticking to shorter, lower-elevation trails until true summer conditions can be found from base to summit. For additional hiking information, head to our Hiking page.