Valentine's Day is almost here, but there's still plenty of time to plan a memorable, romantic daytrip in the White Mountains. Check out our three sample itineraries to help you get started!
Research everything prior to your adventure, and it'll be a sweet escape for all. Hours and days of operation vary, as does availability. 
For the Adventurous Ones
For outdoorsy folks, there's no finer basecamp than North Conway, NH. This idyllic spot ranks in the top 10 of USA Today's Reader's Choice Awards for "Best Small Town for Adventure", and its picturesque location in the eastern White Mountains offers plenty of opportunity for exploring. From snowmobiling to mystery solving and other amazing outdoor activities, this is one exhilarating itinerary well worth packing all your gear.
NORTHEAST SNOWMOBILE & ATV RENTALS, POLARIS PREMIER ADVENTURES
Put on those winter layers and get ready for step one of your adventurous day: racing along snow-covered trails! Northeast Snowmobile & ATV Rentals in Gorham, NH offers self-guide snowmobile rentals, and their flexible reservations allow you to reserve by the hour, half-day, or full day.
If you'd like to start off your day with this option, budget in an extra forty minutes in travel time each way if driving from the North Conway area. 
JACKSON COVERED BRIDGE (AKA THE HONEYMOON BRIDGE)
Now, it's time for the next leg of your journey. Drive 10 minutes north to Jackson, NH and take a mini detour to view the Jackson Covered Bridge (or as its more affectionately dubbed, the Honeymoon Bridge). This classic red structure spans the Ellis River and is located right at the intersection of Route 16 and Route 16A, making it the perfect spot for a quick romantic photo.
If you'd like to plan a trip all around bridges, look at this list of covered bridges in the White Mountains!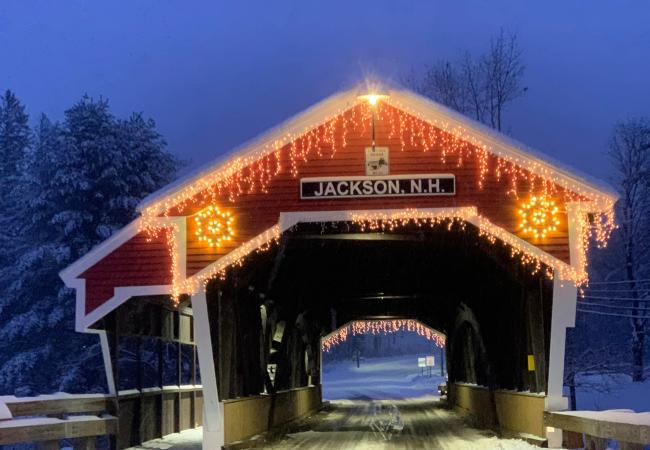 EAGLE LANDING TAVERN
Another 3 minutes up the road is your lunch destination, Eagle Landing Tavern. Located within the historic Eagle Mountain House in Jackson this yummy, scenic stop is the perfect place to refuel before the next leg of your trip. 
Reservations recommended. Check the Eagle Landing Tavern website for current hours. 
MYSTERY, NH
After lunch, it's time to test your wits and try out one of the most unique things to do in the White Mountains: an escape room! Mystery, NH in North Conway, NH offers 2-3 different themed rooms packed with puzzles and clues and sixty minutes to crack the case. It's a little bit of adrenaline mixed with a lot of teamwork, and the perfect option for couples ready for an engaging, unconventional date.
Want to up maximize chances of escaping the room? Consider inviting another couple along! Rooms currently available by private booked session only. Visit the Mystery NH website for FAQs, hours, and more. 
BAVARIAN CHOCOLATE HAUS
Invite a little Valentine's tradition into your adventurous day, and buy each other some chocolates at the Bavarian Chocolate Haus in North Conway on the way to your next activity.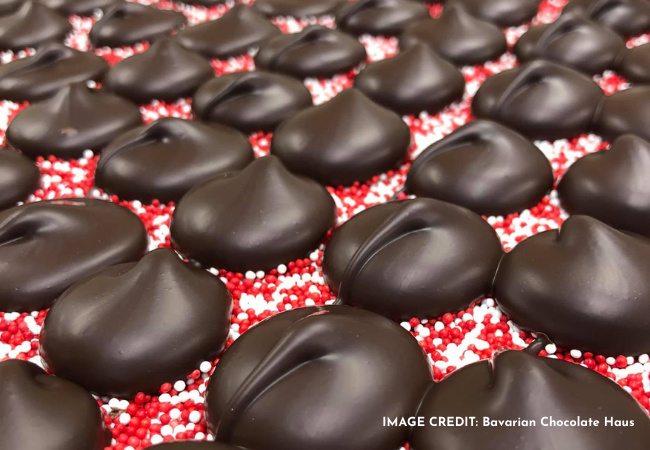 CRANMORE MOUNTAIN RESORT
Have you ever tried night skiing? Cranmore Mountain Resort keeps it slopes open until 8pm on Saturdays and holiday periods throughout the winter season, and we think it's a spectacular way to stay out late while still staying active. End you day under an inky sky with sparkling stars, and you'll find that real romance is just a kiss on a chairlift away.
FORTY AT THORN HILL (Jackson, NH)
A hankering for dinner is only natural after a day spent snowmobiling, skiing, and mystery solving.  If you still have some mojo, we propose toasting your partner over dinner at Forty at Thorn Hill (at the Inn at Thorn Hill & Spa in Jackson, NH). You'll have to retrace your steps a bit to get there, but the meals are divine and the vibes perfect for wooing. As always, reservations are recommended.
A Closer Look at the Tour...
For the Classic Romantics
Calling all classic romantics! This dreamy sample itinerary, centered around the northern White Mountains, is for you.
POLLY'S PANCAKE PARLOR
Start the day off on a sweet note and sit down for breakfast at the iconic Polly's Pancake Parlor in Sugar Hill, NH. With sweeping views of Franconia Notch and a plethora of pancake flavors to choose from (all stone-ground on site), gustatory bliss is just a few bites away.
THE ROCKS
After breakfast, it's time to work off all that NH maple syrup with an easy winter hike in the White Mountains. The Rocks in Bethlehem, NH, is only a fifteen-minute drive from Polly's and features peaceful walking trails woven throughout its 1,400 historic acres. Be sure to bring some layers and bundle up, as well as micro spikes or snowshoes depending on the snowpack.  Our special tip? Don't forget to summit the small knoll in the Christmas tree field for a sneak peek at your next destination: Mount Washington.
COG RAILWAY
Have you ever traversed the tallest mountain in the Northeast in winter? Well, today is the day! Reserve a seat for you and your sweetie aboard the Mount Washington Cog Railway in Marshfield Station, NH and bring your love to new heights. In the wintertime, this mechanical marvel ascends to 4,000 feet of elevation for a brief interlude at Waumbek Station. From here, passengers can sample complimentary hot beverages or warming huts, and stand beside a fire pit perfect for taking in the beauty of wind-whipped Mount Washington.
The average round trip to Waumbek Station takes roughly an hour. Love this idea? Book your tickets now! Seats fill quickly.
GALLERY SHOPPING IN BETHLEHEM AND LITTLETON
Post-mountain, it's time to find a memento for your trip. Retrace your steps on Route 302 back towards the town of Bethlehem and explore WREN's Local Works Marketplace & Gallery for fine art and crafts made by talented area artists.
From there, hop on I-93 north for a quick 10-minute drive to the award-winning (and downright adorable) main street of Littleton, where the League of NH Craftsmen awaits. This easily walkable stretch also has standout shops like Bella Funk Boutique (for a great date night outfit), Chutters (for some last minute chocolates), and the Little Village Toy & Book Shop (for finding a book full of romantic prose to read to each other on the way home).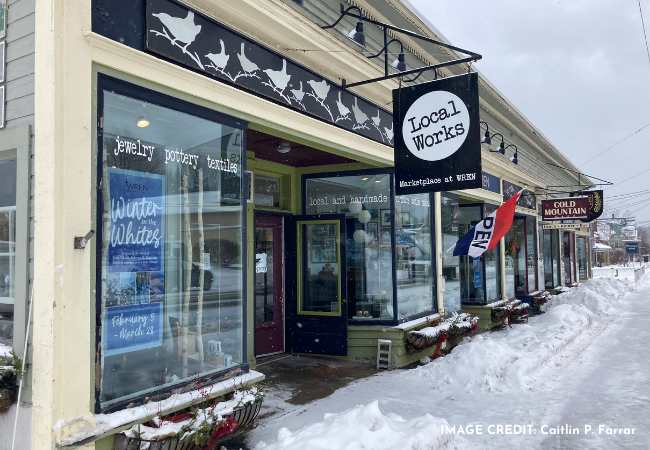 ROMANTIC DINING
After a spate of shopping, it's time to discover some of the best dining in the White Mountains. The Adair Inn in Bethlehem is famed for its candlelit dinners and romantic ambiance, while the Omni Mount Washington main dining room in Bretton Woods, NH offers bountiful opulence (but also a bit more of a drive). The Wine Cellar at the Mountainview Grand (Whitefield), NH, The Beal House Inn (Littleton), and The Wayside Inn & Restaurant (Bethlehem) are also perfect for the romantic set.
All listed establishments also offer on-site lodging if you feel like extending your stay.
A Closer Look at the Tour...
For the Gal Pals
Gather up all your ladies and start planning a Galentine's Day getaway! This trip is where pampering, shopping, and wine tastings meet in one all out fabulous day in the southern and western White Mountains.  
TANGER OUTLETS, TILTON, NH
Start you day with some tax-free shopping at Tanger Outlets in Tilton, NH. This mecca is just a few minutes off the highway and boasts dozens of popular shops for some mood-boosting browsing.
HERMIT WOODS WINERY 
Every adventure needs a bit of celebration, so mark the second stage of your daytrip with a stop at Hermit Woods Winery in Meredith, NH! This standout winery is all about the unexpected, and we couldn't be more enamored. Come for the fruit wines infused with the humble likes of wild blueberries, crabapples, rhubarb, and sun-soaked honey, and don't forget to bring home a few bottles of your favorite blend to cap off the day.
COMMON MAN RESTAURANT
Are you hungry right now, or can you wait a bit? As you head north, you have your pick of two different late lunch locations and one great restaurant: the Common Man in Ashland, NH or the Common Man in Lincoln, NH. Both offer consistent, delicious comfort food and a relaxed atmosphere perfect for catching up with your girlfriends.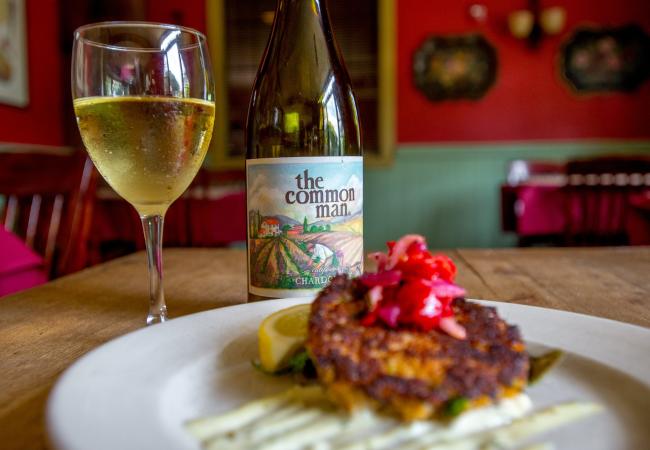 RHYTHM HANDCRAFTED BEVERAGES STUDIO
After lunch, it's time for a different kind of tasting in Lincoln, NH. The next leg of your trip takes you to the Lincoln Village Shops and Rhythm Handcrafted Beverages Studio, an offshoot from the renowned Seven Birches Winery. Here, you can sample craft ciders, meads, and hard seltzers that show off the creative side of one of the region's most loved winemakers.
BALANCED ROCK BODYWORKS
After you've tasted the best of Rhythm Handcrafted Beverages, it's time for the best treat of all: a quick massage at Balanced Rock Bodyworks in Lincoln, NH. We find that their half-hour mini sessions are a great option for smaller girl groups, with the many stores in Lincoln serving to entertain until it's your turn to address those tense spots.
LA VISTA ITALIAN CUISINE
Wrap up your day with your gal pals with dinner at Lincoln's La Vista Italian Cuisine (located inside Loon's Riverwalk Resort). Share a charcuterie board, split a wood-fired pizza or two, and start planning for your next great day tip in NH's White Mountains.
A Closer Look at the Tour...
Which sweet Valentine's excursion sets your heart alight?
 If none of these itineraries seem like quite the right match, we have plenty of other sweet trip ideas! You can also extend your daytrip and make a weekend out of it by reserving a room at one of the many beautiful places to stay in White Mountains.