In the White Mountains, we like to believe that every day is a good day to act sustainably. Whether you book a stay at an eco-friendly hotel, use your own two feet to explore somewhere new, or book dinner at a restaurant where local ingredients feature at the top of the menu, we can all do our part to help caretake our one and only Mother Earth.
Eco-Friendly Ways to Explore the White Mountains
WALK OUR MAIN STREETS
The main streets of the White Mountains are brimming with small town charm. Instead of driving from Point A to B in town, why not park your car and opt for a sidewalk stroll? Along the way, you will find small boutiques and candy counters sharing real estate with microbreweries, outdoor gear shops, and old-time general stores. With a walk down one of our main streets, you have the satisfaction of supporting small businesses while also cutting down on your fuel emissions at the same time.  
Wondering which White Mountains main streets have some of the best walkability? Littleton, Bethlehem, North Conway, or Plymouth are great places to start!
RIDE A BIKE
BYOB (bring your own bike) or rent from a nearby bike outfitter to discover the White Mountains at a slower pace. Try out a local biking trail (like the Franconia Notch Recreational Trail or the Cross New Hampshire Adventure Trail), pack a picnic lunch, and budget in plenty of time for spontaneous stops during your peddling. While you're at it, why not add in an all-day scavenger hunt of sorts? Snap a picture of the prettiest blooms and stop by the side of the trail to listen for the sounds of wildlife or look for shapes in the clouds. You just might discover that taking things slow is exactly your speed.
ENVIRONMENTAL INITIATIVES AT THE MOUNT WASHINGTON AUTO ROAD
The Mount Washington Auto Road has been in operation since 1861 making it the oldest, continuously used man-made attraction in the United States. While the Auto Road is known for its rich history, we also need to recognize the incredible environmental initiatives that the Mount Washington Auto Road, Great Glen Trails, and the Glen House continue to grow. The Auto Road has had a micro hydroelectric facility on-site for almost 100 years which was overhauled and modernizes in 2012.  LED lighting was installed throughout the entire Auto Road property and a wood burning pellet stove was installed to provide hot water and heat for the entire building. They also have an EV Charger on site for those needing a charge while they explore the Auto Road and Great Glen Trails.  You can learn more about all their environmental initiatives here.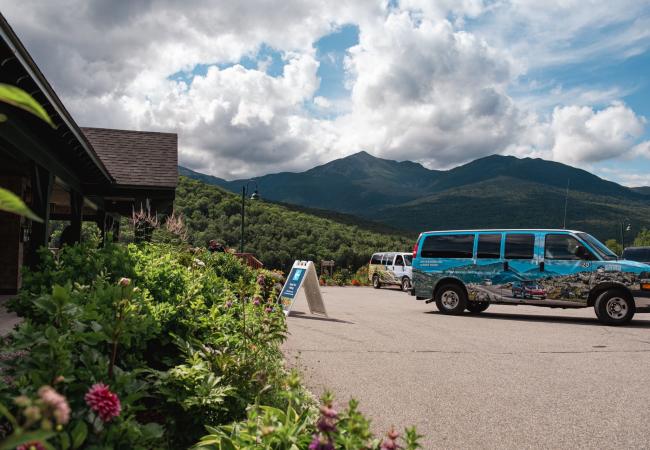 SOLAR POWER AT THE SQUAM LAKES NATURAL SCIENCE CENTER 
The Squam Lakes Natural Science Center, in Holderness, NH, recently installed a PV array around their parking areas and this 117 kW system adds to the existing 25 kW array on the roof of their Blue Heron School. The total project of 142kW, should offset nearly 100% of the Science Center's electricity usage and save more than 250,000 pounds of CO2 annually.  They pledged to have 50% of our energy usage from renewable sources by 2030 and are thrilled to make nearly 100% of their electricity from the sun by 2023!
VISIT SUSTAINABLY MINDED SKI RESORTS
It's not winter, so we get it – you might not be thinking ski resorts. But did you know that many of our White Mountains ski resorts offer summer adventures too? Show your support for the year-round sustainability efforts of our ski resorts and enjoy their summer amenities once the likes of Cranmore Mountain Resort, Loon Mountain Resort, and Wildcat Mountain are ready to welcome visitors for the season.
If you are planning a visit, please review the current dates of operation for listed ski resorts before setting out on your trip. Head to the Sustainability pages on the respective websites for Cranmore Mountain Resort, Loon Mountain Resort, and Wildcat Mountain for more information on how these ski mountains are doing good, day in and out.
Eco-Friendly Shopping in the White Mountains
BURGEON OUTDOOR (Lincoln, NH)
Burgeon Outdoor's hiking apparel mixes functionality with sustainability, and we are all about it. Burgeon designs and sources their goods with an effort to keep every step of the manufacturing process as local as possible. Check out their blog post, where they share how they were recently named one of Field & Stream's Best Sustainable Outdoor Brands for 2023!  If you're lucky, you might even catch some of Burgeon's staff hand finishing select apparel in the Lincoln, NH storefront while you shop. Even better? 5% of Burgeon's sales support community and environmental efforts. We're sensing a sustainable shopping spree in your future!
ENCORE THRIFT & COFFEE SHOP (Lincoln, NH)
Reduce, reuse, recycle – Encore Thrift & Coffee Shop in Lincoln, NH will help you stick true to this earth-friendly mantra. Encore has over 7,000 sq. feet of tidy, shoppable space filled with donated clothing, shoes, sporting goods, jewelry, books, and more. Go in with an open mind – you never know what kind of perfectly reusable pieces might be waiting.
Tanger Outlet Center (Tilton, NH)
Tanger Outlets Tilton has installed 12 Volta charging stations which will provide guests with universal and reliable charging for their electric vehicles. The Volta stations will also provide prime parking spots to allow up-front, convenient parking while providing charging as guests shop the center.  The initiative furthers Tanger's mission to create a more community-first experience, while driving measurable results for its environmental impact and sustainability programs.

Eco-Friendly Lodging in the White Mountains
MOUNTAIN VIEW GRAND RESORT & SPA (Whitefield, NH)
In addition to being a luxurious option for travelers looking to stay in a historic grand hotel, the Mountain View Grand Resort & Spa in Whitefield, NH has also made significant strides towards sustainability. Think paperless "green" meeting spaces that forgo single-use items, resort-wide composting and recycling programs, and earning the title of the EPA's only 100 Percent Green Power Purchaser resort in the state of NH!  
THE GLEN HOUSE (Gorham, NH)
If you find yourself in the eastern White Mountains and want to stay at a hotel close to Mount Washington, look no further than the eco-friendly Glen House. This lodging property is striving towards carbon-neutral and energy self-sufficient status in every aspect, including its impressive geothermal heating and cooling system, "Dark Sky Compliant" outdoor lighting to reduce light pollution, and high efficiency regenerative elevators that feed repurposed power back into the building's grid. As a bonus, beautiful views of Pinkham Notch can also be found just outside.  
Eco-Friendly Dining in the White Mountains
SUPER SECRET ICE CREAM (Bethlehem, NH)
Super Secret Ice Cream in Bethlehem, NH is about as local and small batch as you can get! This White Mountains darling has amazing flavors you won't find in the average grocery store (like chocolate cherry chip, lavender honey, and earl grey) plus ultra-fresh ingredients sourced from nearby farms and producers.
SEVEN BIRCHES WINERY & RHYTHM HANDCRAFTED BEVERAGES STUDIO (Lincoln, NH)
Sister brands Seven Birches Winery and Rhythm Handcrafted Beverages Studio share the same hometown, plus the same emphasis on locally cultivated and created sips. If wine is your speed, stick with Seven Birches – they offer wine tastings and tours, and even have their own vineyard onsite! For zesty seltzers and ciders, Rhythm is your best bet.
WOODSTOCK INN BREWERY (North Woodstock, NH)
The Woodstock Inn Brewery in North Woodstock, NH has a bevy of amazing beers to choose from. If you're lucky enough to spot it on tap, we'd recommend the outstanding Maple Porter pour, which is produced with Fadden's General Store & Maple Sugarhouse syrup (made just a few doors down form the brewery).
While it's all well and good to shop, dine, and stay sustainably, we'd also encourage you to incorporate these Leave No Trace principles into your travels in the White Mountains.
See you again soon!