Winter walks are some of our favorites! Especially on those days when the sun is shining, the sky is blue, and the temps are just so. While it be can be hard to get out and do some of the more challenging hikes in winter, we love that there are quick and easy options that require little more than slapping on a pair of microspikes and hitting the trail.
The 1-mile loop trail at the Quincy Bog Natural Area in Rumney is a beautiful conservation area that is maintained by the Pemi Baker Land Trust.  The pristine boardwalks, suspension bridge, and informative signage are proof that a lot of care goes into the well-being of this natural area.  

The trail officially begins at the Nature Center on Quincy Bog Rd. side of the bog, however, there is another parking lot on Cranberry Bog Rd. and you may choose to start the trail here at the suspension bridge. This is a popular trail so should one parking lot fill up, just know that you have another option.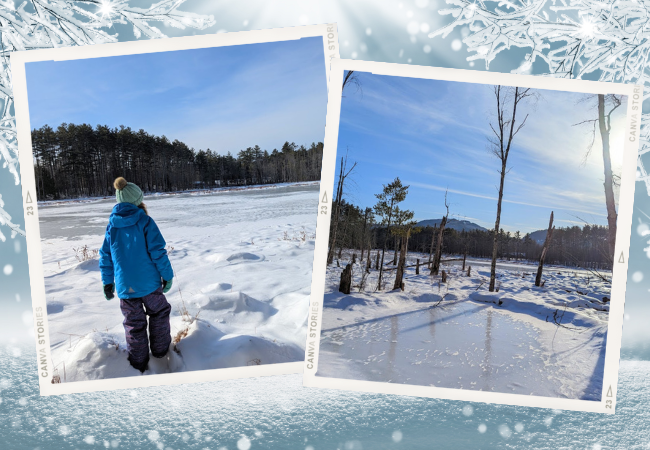 While wildlife may be scarce this time of year, there is evidence of seasonal beaver activity with the dam and gnawed on trees along the path.  You may spot the occasional snowshoe hare tracks and hear birds that do not make the winter trek down south. Along the way you may see some airplanes that are taking off or landing at the nearby Plymouth Municipal Airport and from multiple vantage points, you can view the oscillating wind turbines that dot the ridgelines over in the neighboring town of Groton. If you need a break or just want to sit and enjoy the scenery, there are several benches throughout the trail to allow you to do just that.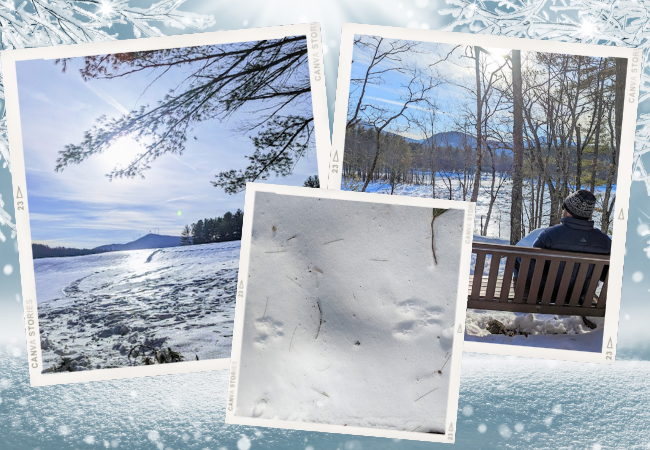 Looking for other ways to get outside this winter? Check out our blog post on other easy winter walks you can enjoy. If you're planning an extended stay in the White Mountains this winter be sure to check out our winter itineraries and ways to enjoy our winter night life.