If you have more than a day to get out and explore the White Mountains, this 2- to 3-day itinerary is your cheat sheet for a wondrous winter vacay. Tour the region from top to bottom (or side to side!) and you'll uncover just how our chilliest season can offer one of the warmest welcomes!
Travelers looking to add another day to their stay (or swap out the activities for one day) can select from our assortment of 1-day winter itineraries.
Prior to setting out on your adventures, please check the operating dates and hours for all listed dining and activity options, as winter schedules vary. Also, book online ahead of time for experiences you know you don't want to miss; many listed options sell out regularly and well in advance. 
Day 1
MORNING
Make like the sun and start your day in the east – the Eastern White Mountains, that is! The best way to catch those early mornings rays? Booking a SnowCoach Tour with the Mount Washington Auto Road (Gorham, NH). These guided tours will take you to just above tree line on the flanks of the famed Mount Washington, "Home of the World's Worst Weather". Earn your bragging rights by taking a photo out in the elements and enjoy the sparkling sights of snow festooned trees and nearby mountains before you head back down.
This experience is a very popular one, so book your tickets early if you'd like to ensure a spot. Otherwise, a scenic ride on the Conway Scenic Railroad (North Conway, NH) or a half day of skiing at the rugged yet wonderful Wildcat Mountain (Gorham, NH) will do quite nicely!  
AFTERNOON
Your first afternoon seems like a fine time to shop and lunch in the picturesque town of North Conway. If time allows, stop by the eastern branch of the New England Ski Museum for insightful exhibits on the region's most iconic sport. You could also consider a short ice skating session in Schouler Park if you'd like to stretch your legs before the next part of your journey!
Your evening destination is about an hour's drive away. To get there, you'll pass through the famous Crawford Notch, a mountain pass made all the prettier by the snow crowning its many imposing peaks. Along the way, keep an eye out for icy waterfalls on the right side of the road (particularly Silver Cascade). Stop at the historic Crawford Depot train station to admire the exterior and look back towards the Notch to see if you can spot Elephant Head, one of the coolest rock formations in the White Mountains.
Depending on which activities you chose for your afternoon, you might even have time to stop in at the Appalachian Mountain Club's Highland Center to peruse their gift shop or sit in on a special program. We'll leave that up to you! Just be sure to budget in time for your hotel check in and dinner…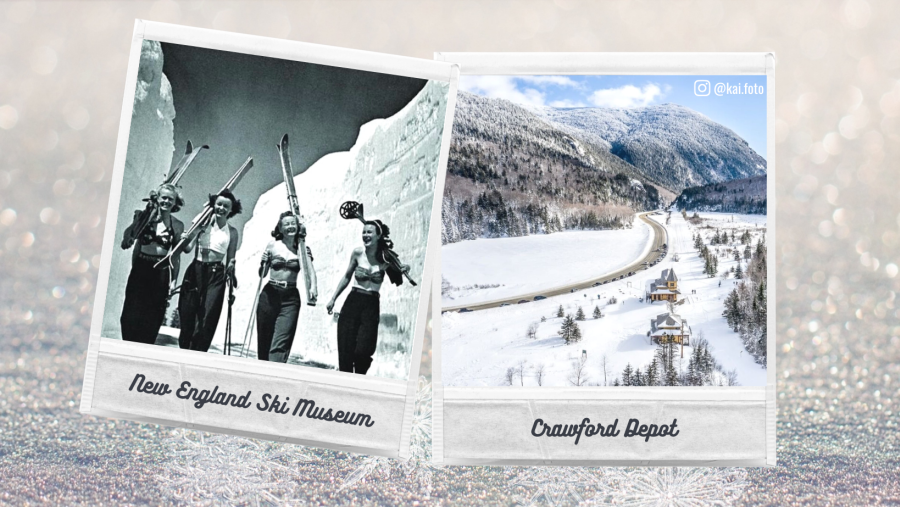 EVENING
But where to stay? You've now made your journey from the Eastern White Mountains to the Northern White Mountains. Happily, this region has plenty of lodging options. Take your pick of cabins, cute motels, and cozy inns, or opt for a signature White Mountains experience: staying in a grand resort hotel! There are two opulent options to choose from, both ideally situated and steeped in rich history.
The Omni Mount Washington Resort (Bretton Woods, NH) lies just north of Crawford Notch, while the Mountain View Grand Resort & Spa (Whitefield, NH) is just over twenty minutes to the northwest. We'd highly recommend reservations for either, as well as arranging dinner onsite for the full grand hotel experience.  

*Christmastime*
Have a holly jolly first day out on the road! See if you can catch a ride on Santa's Holiday Express or book a Journey to the North Pole with the Conway Scenic Railroad (North Conway, NH). Grab your tickets ASAP for either of these experiences, as holiday specials go quick. If you'd rather add in some shopping before the holidays, shop the local stores along either side of North Conway's main street. Head to The Christmas Loft as well for even more Yuletide present perusing.
Day 2
MORNING
Good morning! Where to next?
Late risers might be best suited to having breakfast at their accommodations of choice, but early birds should make their way to breakfast at the famous Polly's Pancake Parlor in Sugar Hill, NH. Wait times can be long on the weekend but the custom mixed pancake flavors are so worth it.
After you've had your fill of stacks upon stacks of pancakes, you have a choice: skating or skiing? The nearby Franconia Inn Activities Center has skate rentals and a small pond perfect for practicing. If you opt for skiing, it's time to make your way to another one of the best places to visit in the White Mountains: Franconia Notch State Park! Here, you'll find the iconic, challenging slopes of Cannon Mountain.
If neither of these options sound like fun due to howling winds or icy temperatures, here are some great alternatives: book a round trip ride on the Cannon Mountain Aerial Tramway, take a short walk to the Old Man of the Mountain Profiler Plaza, see if can squeeze under the historic Boise Rock, or visit The Basin. Whichever you choose, remember to bundle up! Keep an eye on the time as well. Heading south is a must if you'd like to take part in our suggested afternoon activities.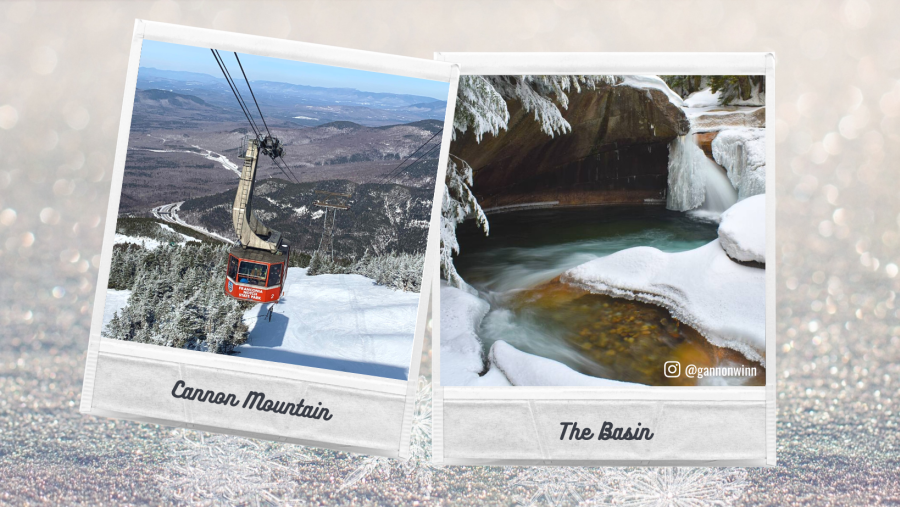 AFTERNOON
Lunch is in order, and there are so many great stops to choose from in Lincoln, NH. Quick, yummy options include the likes of White Mountain Bagel Co. or The Moon Café & Bakery, so chow down if a guided excursion with Alpine Adventures sounds like the perfect afternoon pick me up! You can go ziplining or snowshoeing through a winter wonderland….or stay warm, have a leisurely lunch, and shop around town. If you're traveling with a group, this is a great time to split up and explore the season in your own favorite way.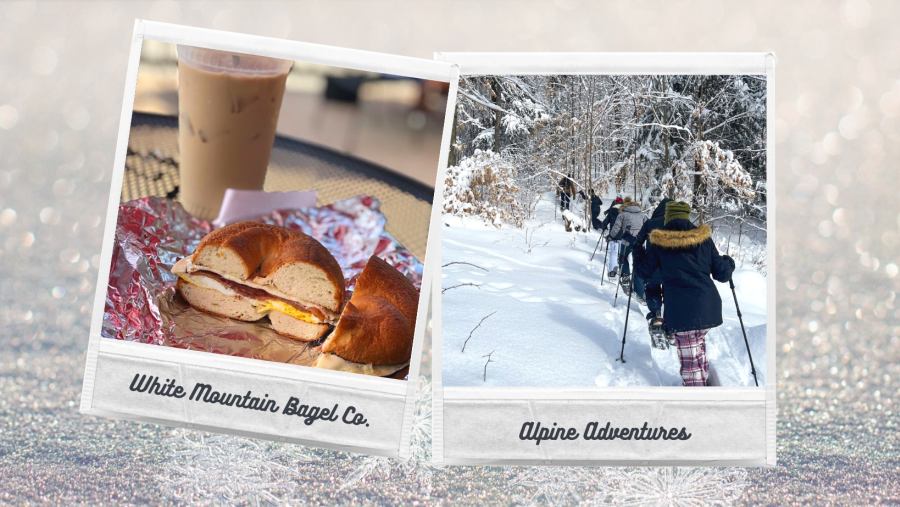 EVENING
You've made it to the evening! And what a day it's been. Have dinner in Lincoln or North Woodstock and head to your booked lodging in town or drive a bit further down I-93 to access your accommodations in the Southern White Mountains.
Those choosing to stay in Lincoln for the night would be well advised to reserve tickets for Ice Castles, a can't-miss experience in neighboring North Woodstock, NH. Each year, visitors from across New England and beyond converge at this, the epicenter of magical winter vibes. Expect an enchanted, illuminated walk through the woods, icy tunnels to slide, skip, and crawl through, and a "walking in a rainbow" kind of experience, set right in the heart of the White Mountains.

*Christmastime*
Ho ho ho, what's that we hear?! Christmastime at Santa's Village is the time to visit this iconic Jefferson, NH attraction. If you're traveling with family or quite simply love Christmas above all other holidays, we'd suggest swapping out most of the listed activities on Day 2 for hours of exploring this beloved theme park. Be sure to book your tickets online ahead of time, as this is an experience that sells out regularly.
Those looking for less of a commitment could always choose to pick up a Christmas tree at The Rocks in Bethlehem, NH (precut or cut your own) or Fadden's General Store & Maple Sugarhouse in North Woodstock, NH (precut).
Day 3
MORNING
Rise and shine, and grab breakfast in town! If you stayed in Lincoln last night, go on a guided snowmobile tour with Dirtventures and Sledventures to shake up the way you explore the woods of the White Mountains. Otherwise, take it easy with a late checkout from your lodging of choice.
AFTERNOON
Narrow your lunch options by location using the Dining page on our website. Then, the afternoon is up to you!
If you are in the Southern White Mountains:
You have one last choice to make during this wintry tour; hike to Rainbow Falls in Plymouth, NH or head further afield and take the Brook Walk at Castle in the Clouds (Moultonborough, NH). Both trips boast half-frozen waterfalls within a moderate mileage, making them great options before the car ride home. If you choose the Brook Walk at Castle in the Clouds, shop at the Tanger Outlets in Tilton, NH on the way! Those picking Rainbow Falls can always watch a live performance at The Flying Monkey Movie House & Performance Center in Plymouth afterwards or nosh on an early dinner before departing.
If you are in the Lincoln, NH area:
Drive east across the stunningly scenic Kancamagus Highway for your last adventure on this epic road trip! Just keep in mind that this 34.5-mile scenic stretch has no amenities. Might we suggest downloading an audio tour from Action Tour Guide to keep your drive lively between here and there? You can spend the afternoon enjoying scenic pull offs and photo opportunities as you make your way back towards North Conway, NH and then home.
More than any other season, winter in the White Mountains is a time to pack sensibly. Bundle up for all your winter excursions, including waterproof outerwear, warm layers, hats, mittens, winter boots, microspikes, and other seasonal necessities. Local outfitters are a great place to supplement your winter wardrobe and gear.
Outfitters include:
Remember to keep safety in mind for all your adventures. Check the forecast often, as conditions can change quickly. Make sure your car is in good working order for the challenges of winter driving, call ahead to confirm that your desired activities and dining options remain open, and always opt to explore within you and your group's abilities and comfort levels. We encourage purchasing a Hike Safe card as well.