Exploring the Western White Mountains...what a great way to spend the day! Here, you'll find cozy dining options, local breweries and wineries in abundance, ski outfitters for your next adventure, and the famous snow-frosted, illuminated structure called Ice Castles. Choose to book this signature experience, opt for a live performance, or partake in a wintry workout. Your own version of a winter wonderland is waiting!
Travelers looking to add another day to their stay (or swap out these activities for another region's offering) can select from our assortment of 1-day winter itineraries or our 2 – 3-day itinerary.
Prior to setting out on your adventures, please check the operating dates and hours for all listed dining and activity options, as winter schedules vary. Also, book online ahead of time for experiences you know you don't want to miss; many listed options sell out regularly and well in advance. 
MORNING
Ease into your day with some museum perusing! Plymouth, NH's Museum of the White Mountains features rotating exhibits showcasing the history and culture of this beloved region. While it is on the small side, this insightful stop will help you jump into that "life in the mountains" mindset.
From there, the morning is up to you. Grab a late breakfast for the day on Plymouth's main street or shop at Artistic Roots for even more inspiration with a White Mountains flare. If you'd like to add skiing to your afternoon activities, we'd also recommend picking up rentals at Ski Fanatics, a well-stocked local gear shop in nearby Campton, NH.
Museum of the White Mountains is closed Sundays, Mondays, and on Plymouth State University holidays (as well as for the occasional exhibit update. Please check the Museum of the White Mountains website for current exhibit information and more. occasionally closed for exhibit updates.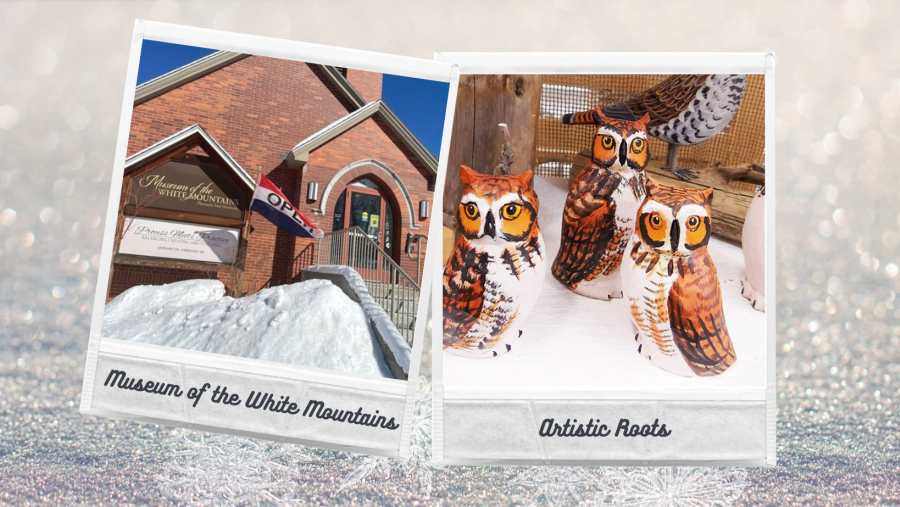 AFTERNOON
Is it lunch time already? Snag a quick sit down lunch at Panorama 682 at Owls Nest Resort (Campton, NH) or the Sunset Grill (Campton, NH); both options offer mouthwatering sandwiches and salads plus seasonal specials to keep you warm and fueled up for the rest of the day's adventures. 
The adventures themselves are up to you! We'd recommend purchasing tickets online ahead of time for a skiing or snow tubing session at Loon Mountain Resort (Lincoln, NH) for the afternoon hours. Another option? Renting cross country skis, snowshoes, or fat bikes from the Waterville Valley Adventure Center. Waterville Valley, NH boasts access to an expansive network of nearby trails, meaning there's no shortage of mileage to explore during your afternoon wandering.
Bonus activity! If you'd rather take a scenic drive than get sweaty in the great outdoors, swap in a covered bridge tour. Here are three covered bridges you can cross of your list with just one side trip: Bath-Haverhill Covered Bridge (Bath, NH), Bath Bridge (Bath, NH), Swiftwater Covered Bridge (Kinsman Notch, NH)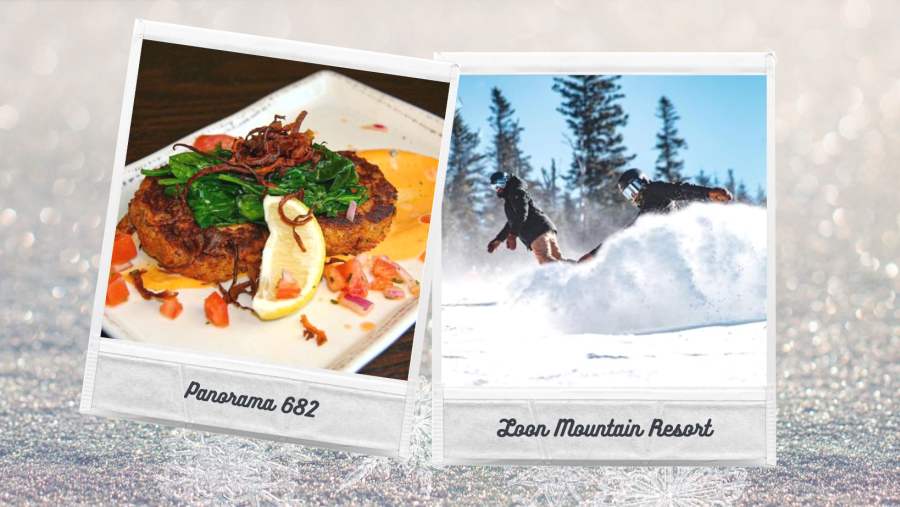 EVENING
Head to an early dinner in Lincoln, NH. You'll have your pick of many yummy options, including the Black Diamond Pub, Black Mtn. Burger Co., Gordi's Fish & Steakhouse, Merland's Tab & Table, and the Profile Dining Room at Indian Head Resort to name a few. Don't dawdle at dinner though – the best adventure of the day is waiting!
Your final stop for the evening is Ice Castles in North Woodstock, NH. This spectacular, illuminated icy structure is only open for a few months each winter, so book your tickets ASAP. It's the perfect place for photo taking, enchanted woods wandering, proposals, and more, and we're absolutely enamored with it.
Can't get a ticket? You could always see if an equally enjoyable daytime slot is available at Ice Castles, and switch up this itinerary to fit.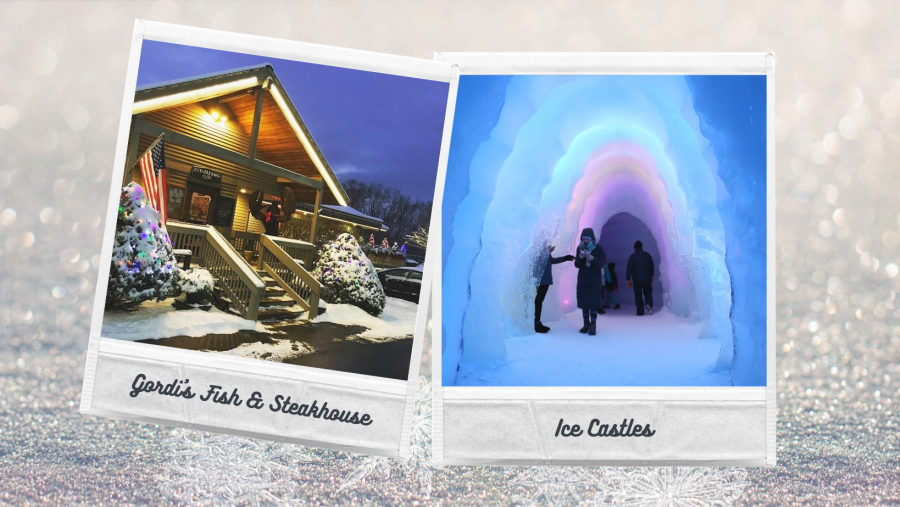 *Christmastime*
Is there anything more festive than picking up a Christmas tree from the heart of the White Mountains? Several locations in the western stretches of our region will have you feeling merry and bright with their fine selection of firs. Here are a few to get you started:
More than any other season, winter in the White Mountains is a time to pack sensibly. Bundle up for all your winter excursions, including waterproof outerwear, warm layers, hats, mittens, winter boots, microspikes, and other seasonal necessities. Local outfitters are a great place to supplement your winter wardrobe and gear.
Outfitters include:
Remember to keep safety in mind for all your adventures. Check the forecast often, as conditions can change quickly. Make sure your car is in good working order for the challenges of winter driving, call ahead to confirm that your desired activities and dining options remain open, and always opt to explore within you and your group's abilities and comfort levels. We encourage purchasing a Hike Safe card as well.