During fall, all roads should to the White Mountains – or at least, they should! While the fields of wildflowers in summer and endless snowcapped mountains in winter are spectacular, there's something inimitably magic about fall in our region.
Use this three day fall itinerary for some trip planning inspiration. Along the way, you'll tour the best of Franconia Notch State Park, wander down charming main streets complete with fluttering fall leaves, drive to the top of a majestic mountain, and even take a scenic cruise on New Hampshire's largest lake.
For fall activities in the White Mountains, it doesn't get much more magical than this!
Fall is one of the busiest times of the year in the White Mountains. We strongly recommend booking all your lodging and adventures online ahead of time. Wait times might also be a bit longer than usual, and traffic a little busier, so pack your patience and spend that extra time admiring the inimitable views!
DAY ONE
MORNING: TOUR FRANCONIA NOTCH STATE PARK
Drivers headed north on I-93 should get prepared for plenty of pull offs; the 9-mile stretch located within Franconia Notch State Park is full of them!
Start you day with the Flume Gorge, one of the best attractions in the White Mountains. Trust us, the price of admission is worth it for what lies ahead: the roaring waters of the Flume Brook and the sheer walls of Conway granite rising to the height of 90 feet on either side. A scenic wood boardwalk slotted into this fairytale setting means visitors are right in the heart of the gorge, dazzled by the thick canopy of fall leaves above and the beauty of the brook below. See if you can resist taking selfies – we dare you!
This attraction features plenty of uphill walking and stairs, so plan accordingly for your adventure. Visitors can purchase their tickets online ahead of time, or the day of.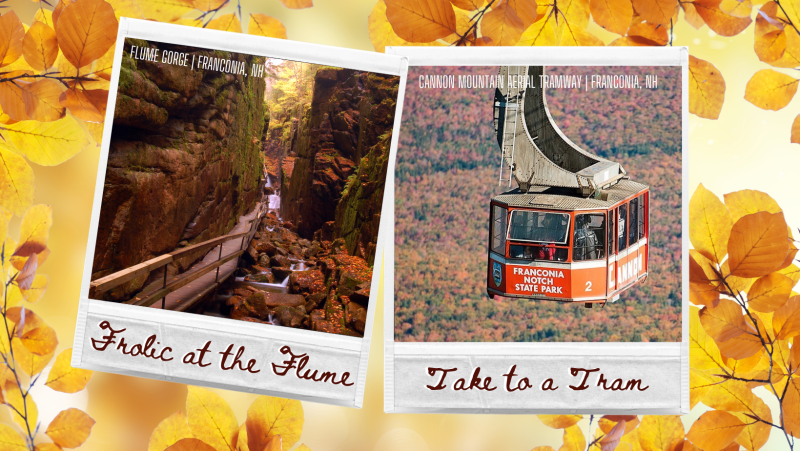 From there, the adventure is up to you. Ride the Cannon Mountain Aerial Tramway for unparalleled views of the leaves on Franconia Ridge across the away. Check out the Old Man of the Mountain Museum and Memorial Plaze on the shores of Profile Lake.
Or, if time allows, consider a short hike! How about Artists Bluff (1-mile roundtrip, rated moderate) or Lonesome Lake (3.25 miles roundtrip, rated moderate to challenging)? The Basin is also a great option, although it does require a little bit of backtracking (as it's located on the southbound side of the divided highway).
Travelers eager to get to the next stop can always skip the hike entirely and keep heading north towards your midday destination: Littleton, NH.
If the hankering for hiking kicks in later in the day, consider Kilburn Crags, an easy 1.4-mile roundtrip hike located on the northern side of Littleton, NH. This is also a great option if you find that parking is a challenge in the Notch (as lots can fill up quickly during the fall).
MIDDAY: EXPLORE A CHARMING MAIN STREET
Head 15 minutes north of Franconia Notch State Park and snag the first parking spot you see on Littleton's Main Street – this bustling hub, dubbed one of Outside magazine's "Top Ten Dream Towns", is built for strolling!
Local favorites include the Little Village Toy & Bookshop, Chutters (which boasts the longest candy counter in the world), and Bella Funk Boutique (for all things wardrobe-related). There are plenty of other small galleries and shops scattered along Main Street, so take you time window shopping.
Once you've worked up an appetite, head to the River District and the banks of the Ammonoosuc River to sample some microbrews and flatbread pizzas at Schilling Beer Co. We'd recommend the pretzel with beer cheese and mustard while you're at it.
If snacking is more your speed, take a quick drive to the Littleton Food Co-op for local produce and ready-made deli sandwiches. Then, park at Littleton's Riverfront Commons and set up shop on the wide rocks at the edge of the Ammonoosuc.  Talk about a splendid way to spend your midday!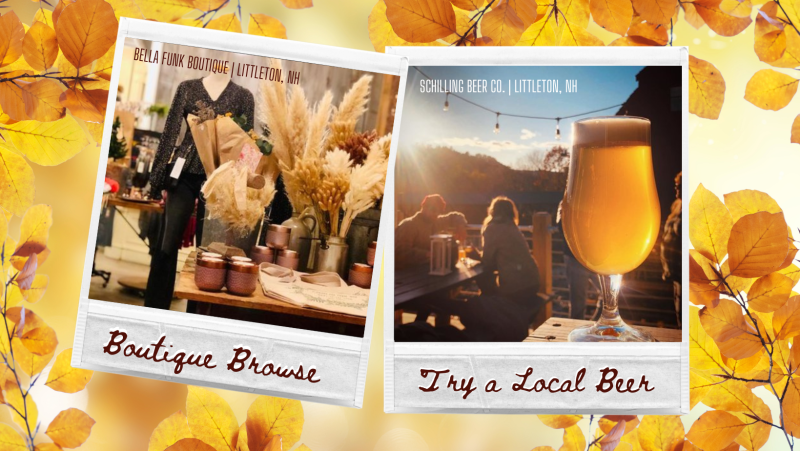 EVENING: STAY AT A HISTORIC BED & BREAKFAST
Wrap up your first day with a nod to the classic New England road trip, and check into your prebooked bed & breakfast. If you still have some mojo after unpacking, we'd recommend visiting Rek'-lis Brewing in Bethlehem, NH for more microbrews and pub-style fare or The Beal House in Littleton, NH for fine dining.
Go to sleep early; the next day is a big one!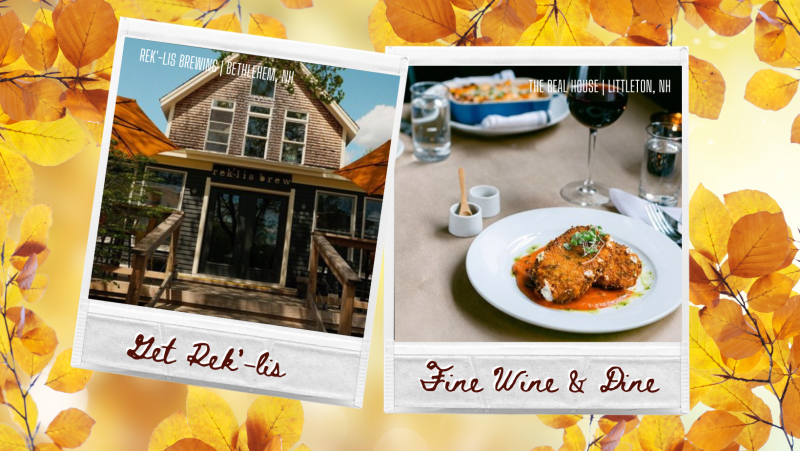 DAY TWO
MORNING: PARTAKE IN PANCAKES AND POETRY
Would a trip to the northern White Mountains be complete without breakfast at Polly's Pancake Parlor? We think not! This iconic restaurant (located in Sugar Hill, NH) has been serving up short stacks for over 75 years, complete with inventive batters featuring cornmeal, gingerbread, and more.
The maple syrup on top? It's local. What about the views? Yup, that's Franconia Notch. Take a picture atop Trot Trot the red donkey as you depart.
Now, it's off to The Frost Place in Franconia, NH!
The Frost in question is Robert Frost, famed New England poet. His White Mountains homestead is small but picturesque, with a front porch perfect for foliage pondering. Before you head on to your midday excursion, walk the Poetry Trail and contemplate the forests that inspired Frost's most famous works.  
The interior of The Frost Place remains closed at this time.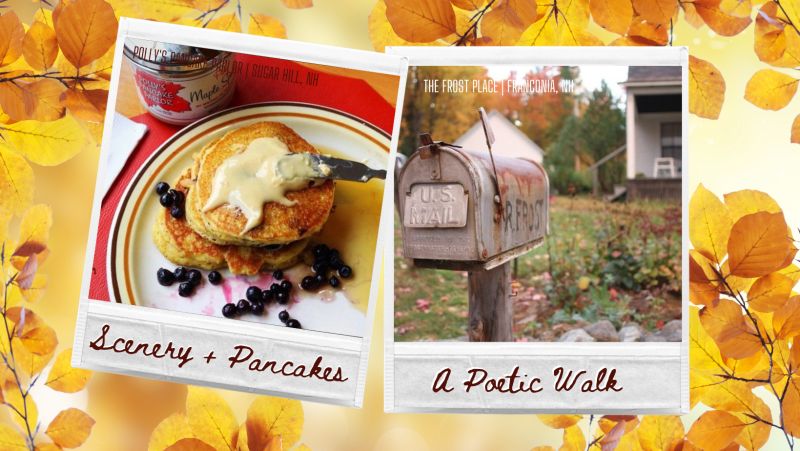 MIDDAY: MAKE IT UP THE MT. WASHINGTON AUTO ROAD
Now, it's time to drive to Gorham, NH. Take in the best of the fall foliage and allot some extra time for stops as you make your way to your midday destination, the famous Mt. Washington Auto Road!
For this leg of your trip, we'd recommend booking a 2-hour guided tour to the summit. Your driver will handle the 7.6 miles of twists and turns while telling tales of the mountain; all you have to do is remember the stunning views. At the top, explore the Sherman Adams building complete with a museum and gift shop. Don't forget to take a photo with the summit sign too! You're standing atop the Northeast's highest and mightiest peak.
After that, it's time to choose you own adventure.
What about renting a bike at Great Glen Trails Outdoor Center once you've returned to the base? There are miles of gentle paths. You could also drive just a few minutes south through Pinkham Notch to Thompson Falls or Glen Ellis Falls for a short hike and peak waterfall viewing.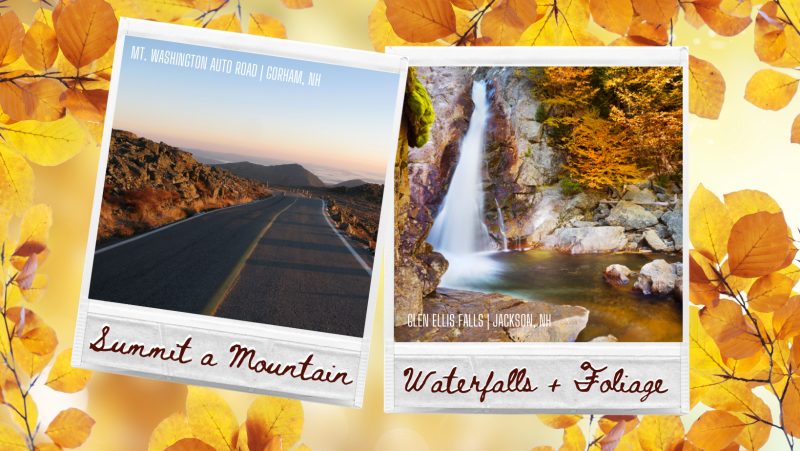 EVENING: GET ECO-FRIENDLY FOR YOUR OVERNIGHT
Let's embrace the eco-friendly mindset with an overnight at The Glen House in Gorham, NH. We can't get enough of the gorgeous lobby and bar area, as well as the patio and firepit overlooking Mount Washington's flanks.
If you can squeeze it in, be sure to pack a swimsuit and take a quick dip in the indoor pool. The view is, quite simply, impeccable.

DAY THREE
MORNING: LEAF PEEPING IN THE LAKES REGION
On your last day, switch it up! Head south towards the Lakes Region along Route 16.
Bring a NH road map for this part of the journey, particularly if you'd like to take off down winding backcountry roads in search of foliage. Service can be a bit spotty, but that shouldn't stop you from exploring the unknown. (We'd recommend Madison, Tamworth, and Sandwich, and all the little roads in between as a start.)
Just make sure your headed towards Rumney, NH by midday to make it to your next adventure!  
MIDDAY: WOULD YOU RATHER? OUTDOORS EXPLORING
After all that driving, it's time get moving. Park your rig at Polar Caves Park, put on those athletic shoes, and get ready to scramble. With its mix of nine cliffside granite caves plus an adorable animal park and epic gift shop, it's easy to see why this spot ranks as one of the best attractions in NH, and particularly so if you love caving!
We could linger over the views from Hawk's Cliff for days, but if you find you have some extra time after exploring Polar Caves Park, you have a choice: head 10 minutes east to Plymouth, NH for a hike to Rainbow Falls, or drive forty minutes south towards Weirs Beach, NH and Mount Washington Cruises.
The latter option is a bit more of a time commitment (with cruises averaging around 2.5 hours), but how often can you say you saw peak fall foliage from the middle of Lake Winnipesaukee?
Visit each location's website for additional information, including online ticket booking and fall hours of operation.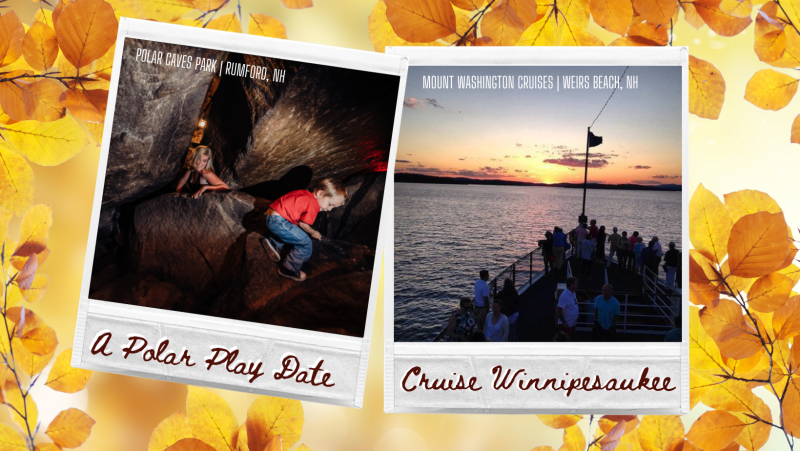 EVENING: OVERNIGHT IT, OR ROAD TRIP BACK HOME AFTER DINNER
As the day draws to a close, grab dinner at one of the many Common Man properties located in the Lakes Region. After that, check into your booked lodging property or start your trip back home!
Read up our other itineraries, including our one-day regional tours, for more road trip inspiration!