Spring into vacation mode with these seasonal trip ideas! From listening to birdsong while biking a rail trail to watching some local talent during a live performance, April is the perfect time to try something new.
BOOST YOUR ADRENALINE AT ALPINE ADVENTURES (Lincoln, NH)
If hearing the words "White Mountains" brings to mind heart pounding activities, start planning your spring escape with a stop at Alpine Adventures in Lincoln, NH.  This adventure hub is currently open Thursdays through Sundays, and features an exhilarating series of ziplines as well as the Thrillsville Aerial Challenge Park for intrepid ascenders.
Come May 1st, Alpine Adventure's days of operation expand to include Mondays as well. Visit Alpine Adventures' website for additional information, including ticket booking, other activities, and age/height restrictions based on activity.
TAKE IN THE SIGHTS ON THE CONWAY SCENIC RAILROAD (North Conway, NH)
Up here in the White Mountains, the trees are just beginning to bud. That means you still have quite a few weeks to catch unobstructed, breathtaking views aboard the Conway Scenic Railroad! You will have your pick of two different excursions, as well as seating upgrades (we love the Premium option for 360-degree sightseeing and plenty of sunshine basking). Both trips depart from the historic Conway Scenic Railroad station, an Insta-worthy local structure built in 1874.  
Train excursions are scheduled for weekends only, April 16th through May 22nd. If you'd rather wait for a weekday, daily excursions kick off on May 24th. Book your trip online today on the Conway Scenic Railroad website.
RIDE UP HIGH ON THE MT. WASHINGTON COG RAILWAY (Mount Washington, NH)
Planning your spring escape for mid-week? Right now, the Mt. Washington Cog Railway is open daily for trips to Waumbek Station, a scenic stop located partway up the flanks of Mount Washington (trust us, even from 3,900', the views are stellar). Come April 22nd, the train ascends even higher, stopping at Skyline for a total elevation of 5,500'! Don't forget to bring your camera and warm layers – while it might look like springtime at the base station, winter conditions can happen year-round on this famed mountain.
If you are looking to make it all the way to summit of Mount Washington aboard the Cog, book your trip for April 30th or later. As always, keep in mind that summit trips are subject to weather conditions.  
CUT LOOSE AT LIVE A LITTLE FITNESS (Lincoln, NH)
Parents craving some time to shop or sip sans kids should look into booking a Studio Play session at Live a Little Fitness in Lincoln, NH. This cozy gym is perfectly situated within the Village Shops complex and offers augmented reality spaces with interactive games to encourage movement, plus a fully padded floor for active tumblers. The attentive staff at Live a Little Fitness are all CPR/First Aid Certified, giving parents peace of mind if they choose to explore the other offerings within the Village Shops while their children play.
To book a Studio Play session, call or text (603) 348-7220.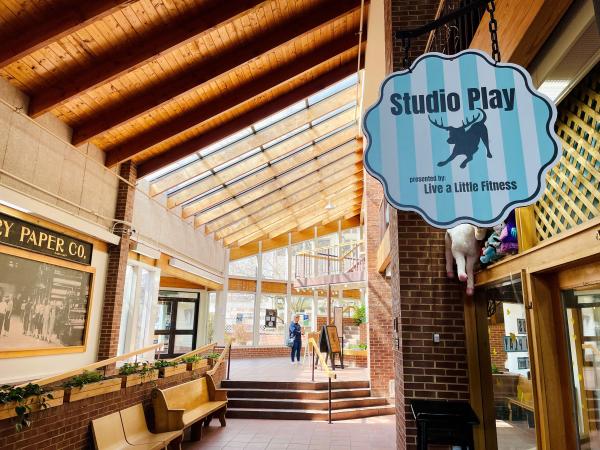 (Photo Credit: Caitlin P. Farrar)
TOUR AROUND LIVING SHORES AQUARIUM (Glen, NH)
Many people head to the White Mountains for wildlife viewing, but moose can prove a bit elusive. Why not focus on otters instead? We'll make it easy for you: start looking at Living Shores Aquarium in Glen, NH!  This awesome spot boasts a whole romp of Asian small-clawed otters, as well as lorikeets, rays, starfish, and all kinds of reptiles and fish. Spend a few hours at Living Shores, and you'll quickly see why we consider it one of the best spring activities for families in the White Mountains.
Living Shores Aquarium is open daily April 15th through May 2nd (with special hours for Easter). Open Friday – Monday, May 6th through June 13th. Daily operations resume June 17th. Visit Living Shores' website for tickets and additional information.
LEARN THE ROPES AT NORTH COUNTRY CLIMBING CENTER (Lisbon, NH)
For those planning a family vacation with high energy children, a session at North Country Climbing Center (NC3) is a must. This Lisbon, NH climbing gym boasts multiple pitches, as well as kid-friendly Open Climb packages that include a day pass, full climbing gear rental, and belaying from the attentive NC3 staff. Be prepared to sign a waiver before the climbing begins, and pack comfortable, loose-fitting clothes for maximum fun and flexibility!
Open Climb sessions are scheduled for weekends and holiday, noon to closing (no reservations required). Introduction to Climbing Lessons are available Saturdays and Sundays at 10:30am. If you would like to book an Intro or Open Climb outside of these hours, call NC3 (603) 838-5300.
WATCH A LIVE PERFORMANCE AT THE FLYING MONKEY (Plymouth, NH)
If you have a kid-free evening marked in your calendar, make it a date night! The Flying Monkey Movie House & Performing Arts Center in Plymouth, NH has a fantastic line up of performers for the spring season, including the likes of The Bacon Brothers, the Glenn Miller Orchestra, The Mersey Beatles, and more.  
Would you like dinner in addition to the show? Book a seat at one of the Flying Monkey's premium tables! Sample menus available on the Flying Monkey's website.
GET IN SOME MILES ON A RAIL TRAIL
Give local mountain biking trails a few more weeks to firm up, and bring your bike out on one of the region's many hard-packed rail trails! For a longer ride, our pick is the 18-mile Presidential Recreational Rail Trail, which starts in Whitefield, NH and passes through the incredibly scenic Pondicherry Wildlife Refuge on its way to Gorham, NH. Meanwhile, those looking for a shorter outing will enjoy the 4-mile Warren Recreation Trail in Warren, NH.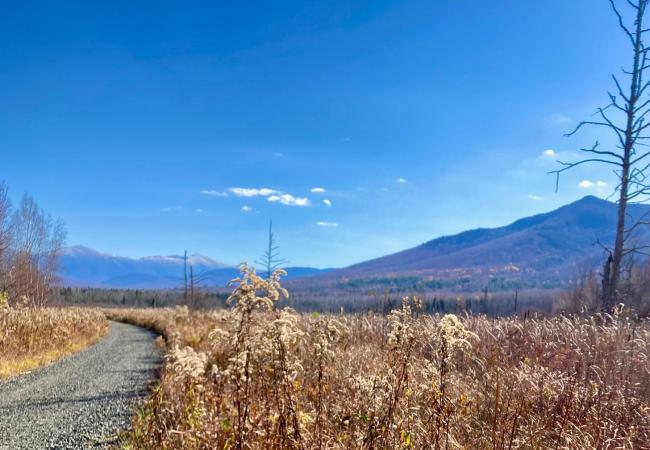 (Photo Credit: Caitlin P. Farrar)
Whichever way you choose to play during your spring vacay, remember to pack lots of layers as well as some flexibility. Spring in the mountains can mean snow one day and flowers the next, but we wouldn't have it any other way! Check out the "Things to Do" tab on our website to pull together a one-of-a-kind itinerary,