This time of year, the snowbanks are receding and the tips of the tree branches are just barely beginning to bud.
We urge you to take advantage of the next few weeks to take to the open road! The White Mountains are just waking up from winter, meaning you'll find quieter spaces to call your own and scenic vistas where the only company can be just you, your camera, and the gentle changing of the seasons.
Keep scrolling for our favorite ideas for spring fun in the White Mountains.
Sample Spring Flavors
Winter is pretty much over – sweet! Sample the flavors of spring with a tasty trail of your own making.
If you lean towards the traditional, North Conway's Bavarian Chocolate Haus is brimming with chocolate confections perfect for Easter basket swag. Chutters, a White Mountains mainstay, also has classic offerings, as well as two great locations – one in Lincoln, and one in Littleton (the latter of which can lay claim to "world's longest candy counter").
A newcomer in the confectionery world is Bethlehem, NH's Super Secret Ice Cream. Started in a backyard shed, this ice-cream centric darling has now graduated to a main street scoop shop. The ingredients are local, the flavors outstanding, and the shop itself is a great place to spend a few hours sampling ice cream flights and making plans for the warmer months ahead.
We'd also encourage grabbing pastries at a local bakery (The Moon in Lincoln, NH is a great place to start), and shopping for maple syrup made right here in the White Mountains
Are you visiting in March or early April? Check out area offerings in celebration of NH Maple Month!
Take a Scenic Drive While the Roads Are Quieter
Our top roads to wander down? Start with the Kancamagus Highway. This 34.5-mile byway is renowned for its variety of picturesque pull-offs, its easily walkable trails to famous waterfalls like Rocky Gorge, Lower Falls, and Sabbaday Falls, and the fact that it connects two of the White Mountains' best adventure hubs: Lincoln, NH and North Conway, NH.
If you feel like extending your drive after arriving in North Conway, head north on Route 16 through town and connect with Route 302. Soon, you'll be passing through the breathtaking expanse of Crawford Notch State Park along the way. To pass the time, see if you can spot some roadside waterfalls, a rock that wondrously resembles an Elephant Head, and other area icons.
Once you reach Twin Mountain, turn left on Route 3. In fifteen minutes or so, you'll reach I-93 south and another legendary mountain pass: Franconia Notch State Park. Keep heading south and you'll connect back with Lincoln. Congrats! You've just completed the White Mountains Trail.
Another great option? See if you can check off even more White Mountains notches during your travels. We'll give you a hint on where to get started: Kinsman Notch, Pinkham Notch, or Dixville Notch.
Note: If you decide to forget your own path, keep in mind that many smaller roads and higher elevations might still be closed or inaccessible this time of year due to melting snow and muddy conditions.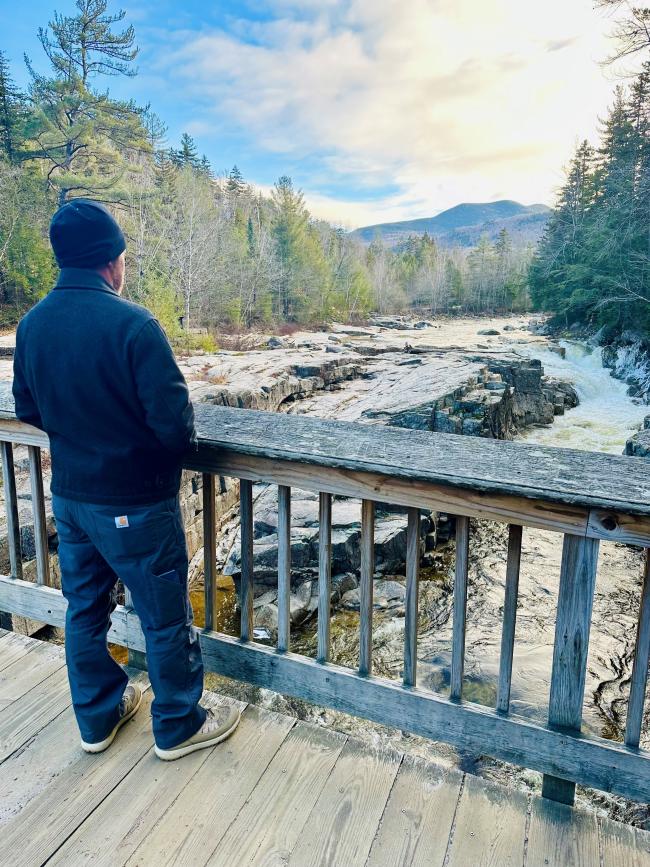 Photo Credit: Caitlin Farrar (Rocky Gorge)
Swing into a Spring Event
In springtime, the White Mountains is peppered with events to rouse you out of your winter doldrums.
What about solving a murder mystery over one intriguing, theatrical weekend? Mystery in the Mountains, a family-friendly caper hosted by the Western White Mountains Chamber of Commerce, will have you merrily traipsing all across Lincoln and Woodstock in pursuit of the truth.  
Spring ski events also top our list of ways to have fun in the White Mountains this time of year. Pick your perfect themed party (80's or beach?) and pack your best threads to match. Throughout the day, you can enjoy rocking tunes, pond skims, jump contests, and more at each our White Mountains ski resorts.
Also? Easter is up soon!  We've got great meals, deals, and Easter egg hunts on the agenda in just a few short weeks. Some bunny told us it's going to be a lot of fun – see you around town?
Visit our events calendar to see all spring events in the White Mountains.
Spot our Rockin' Local Icons
….and we mean that quite literally. New Hampshire is called the Granite State for a reason, and we have an abundance of interesting formations for you to discover. The best part of rock spotting this time of year? There are no leaves to obscure the view!
Indian Head (a rocky profile easily spotted just across the street from Indian Head Resort in Lincoln, NH) is a classic, as is the Old Man of the Mountain Profile Plaza in Franconia Notch State Park (which is notable for its creative take on the absence of the state's most famous outcropping).
Spotting Mount Washington (the tallest peak in the Northeast) is a must, but we'd like also to throw a few outliers out there too.
A short walk will get you to Madison Boulder, a massive glacial erratic that must be seen to be believed. Take a selfie at Boise Rock if you want a great tale to tell back home, look for Glen Boulder high above as you wind through Pinkham Notch, and check out Rocks That Rock for even more ideas.
Spring is a short season, so seize the day! Bring practical boots you don't mind getting muddy and lots of warm layers, as well as your sense of adventure. Weather in the mountains is unpredictable, but we can say with great certainty that a springtime excursion will have you seeing our region in a brand-new way.