After weeks of waiting, it's almost here! February Vacation is so close that we can feel the fun already.
If you've been looking for that perfect pick-me-up to haul you out of your midwinter slump, make your way to the White Mountains for a weeklong escape. We have some of the best family friendly things to do over February break, including aquariums, Ice Castles, rides up Mount Washington, and a mix of new and longstanding local events to attend while you're visiting our neck of the woods.
FUN FAMILY ACTIVITIES
Explore Under the Sea at LIVING SHORES AQUARIUM (Glen, NH)
Visitors looking to stay indoors over February vacation can still find fun in the White Mountains, and particularly so at Living Shores Aquarium in Glen, NH. Check out their new axolotl exhibit, touch a sting ray (or feel the tickle of some nibble fish!), and spend the day spotting underwater critters – it's the perfect activity for kids. If you time it just right, you also might be able to attend one of the Aquarium's awesome daily talks.
Visit the Living Shores Aquarium website for more information, including hours and online tickets. Read "
Take to the Slopes of the Northeast's Highest Peak Aboard the MOUNT WASHINGTON COG RAILWAY (Marshfield Station, NH)
Even if you've already taken a ride up the Mount Washington Cog Railway in winter, we'd suggest booking tickets for another adventure. The Cog recently revamped their winter terminus (the ultra-scenic Waumbek Station, located partway up the flanks of Mount Washington), and it is the spot to feel like you're partaking in a true White Mountains winter. There's cocoa for all and tons of snow to romp in, plus stellar views to enjoy during your time at nearly 4,000'.
Visit the Mount Washington Cog Railway website for additional information, including train schedule and online tickets. We strongly recommend booking your tickets in advance for this popular experience.
Tour a Sub-Artic World with a SnowCoach Ride on the MT. WASHINGTON AUTO ROAD (Gorham, NH)
Travel to the eastern side of Mount Washington; the Auto Road awaits! This time of year, there's no drive yourself option. Instead, you can ride one of the Auto Road's sturdy, warm SnowCoaches to a little over 4,200'. There will be expert narration and pretty sights, plus the exhilaration of experiencing wintertime at the "home of the word's worst weather". Need we say it? If you'd like to hop out and look around at the turnaround spot, DRESS WARMLY.
Visit the Mt. Washington Auto Road website for additional information, including online tickets. We strongly recommend booking your tickets in advance for this popular, regularly sold-out experience.
Snowshoe in a Wintry Woods with ALPINE ADVENTURES (Lincoln, NH)
Forget simply gazing at the White Mountains – get out into them on a guided snowshoe walk. Alpine Adventures in Lincoln, NH is your ticket to our winter wonderland. They'll provide the snowshoes and expertise, as well as many private, pristine acres to tour; all you have to is walk and wonder at the beauty of the woods. You might even be rewarded with a visit to a cozy cabin and cocoa at the end!  
If your family is feeling extra daring, you can always opt for an adrenaline-boosting winter zip tour instead. For more information, including booking and what to bring, visit the Alpine Adventures website.
Let Your Imagination Run Wild at ICE CASTLES (North Woodstock, NH)
Ice Castles – it's only here for a brief, wondrous time each winter. Book your tickets online now to fall in love with the illuminated structures, enchanted forest walk, sleigh rides, and tubing that Ice Castles is famous for, and get ready for a frosty new surprise: an illuminated Ice Bar with thematic cocktails and one-of-a-kind ambience!
We HIGHLY recommend booking your tickets online ahead of time, as Ice Castles is a very popular experience. Visit the Ice Castles website for additional information and to purchase tickets, and read our blog for a behind the scenes tour of the construction of Ice Castles.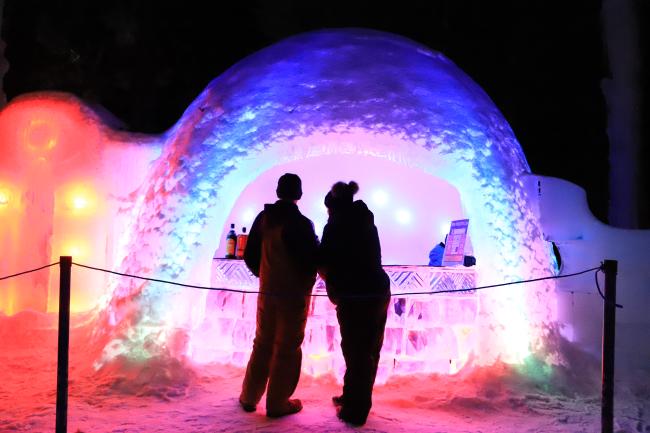 Photo Credit: Colleen Eliason
Go for a Walk and a Read at the BELIEVE IN BOOKS LITERACY FOUNDATION (Intervale, NH)
Do you believe in the magic of good books and exercise out in the fresh air? Make your way to the Believe in Books Storybook Trail, a transportive stroll in the woods complete with children's book excerpts to read during the journey. Kiddos will stay entertained dashing through the story, while parents can revel in the feel of a lovely winter walk. Best of all, the books change weekly, meaning you can make a tradition that extends far beyond vacation week!
Visit the Believe in Books Literacy Foundation website for more information, including trail maps and the latest story on display along the Storybook Trail.
SKI RESORT EVENTS
CANNON MOUNTAIN (Franconia, NH)
Family Fun Night with Torchlight Parade & Fireworks Show
Skiing, a torchlight parade, and a fireworks show spell magic for your family vacation! Cannon Mountain in Franconia, NH is your ski resort to access all three at once. 21+ members of your party can also enjoy apres entertainment at the Cannonball Pub prior to the nighttime festivities. (Saturday, 2/25, 3 – 7pm. Apres at Cannonball Pub: 3 – 6pm. Huckerbrook skiing open under the lights (conditions permitting): 4:30 – 6:30pm. Torchlight Parade & Fireworks: 6:30pm.)
For more information and tickets, visit the Cannon Mountain website.
CRANMORE MOUNTAIN RESORT (North Conway, NH)
Come to Cranapalooza! S'mores, music, and games (plus a potential spotting of C-more the Penguin!) ensure your vacation visit to Cranmore Mountain Resort is fun affair for all.  (2/18 – 2/25, 2:30pm – 4:30pm)
Are you feeling freestyle these days? See if you have the skills to wow at Cranmore's second Park Series of the year! And yes, ski and snowboard swag will be handed out to the best of the best. (Friday, 2/25, 9am – 12pm. Registration at BBQ Barn (next to Zip's Pub): 8:30 – 9:30am. Competition: 10:30am)
If your family has some early bedtimes to contend with, Cranmore's fireworks display is a great option for sparkling entertainment. Hit the base of North Conway's best ski slope on Saturday, 2/25 to salute the last few days of your winter vacation. (Friday, 2/25, 6:30 – 8:30pm)
For more information and tickets, visit the Cranmore Mountain Resort website.
OTHER OUTDOOR EVENTS
GREAT GLEN TRAILS (Gorham, NH)
Test your ski mettle with Great Glen Trails' Nordic Meisters series! Choose from skate ski or the classic division, or both; from there, pick a 5k or 3km course and see where your times stand compared to your fellow nordic enthusiasts. (Recurring weekly on Thursdays, 10am – 4pm through 2/28)
For many, vacation week must include some kind of kid-friendly skiing activity. If your kiddo has some experience on cross country skis, get them out on the trail and trying new techniques with the Bill Koch League Ski Club! (Sunday, 1/19 and Sunday, 1/26, 1:30 – 3:30pm. Club dues: $45 for first child; $35 for each additional child. Equipment rental: $5 per session.)
For more information and online registration, visit the Great Glen Trails website.
MT. WASHINGTON VALLEY SKI TOURING & SNOWSHOE CENTER (Mount Washington Valley, NH)
33rd Annual Chocolate Festival
Get ready for one of the sweetest events in Mount Washington Valley – the 33rd Annual Chocolate Festival! It's up to you if you'd like visit participating trailside businesses by cross country ski or snowshoes; either way, the amazing 45 KM Mt. Washington Valley Ski Touring & Snowshoe Center trail network will get you there. P.S. There's always the option to drive to each chocolate stop too.
Online tickets sold out; reserve a room with one of the participating lodging properties listed on the Mt. Washington Valley Ski Touring website to access this fun event. $45 per person fee (in addition to lodging costs).
SETTLERS GREEN (North Conway, NH)
35th Anniversary Celebration: Community Fireworks
Is it really vacation if you don't squeeze in a little bit of shopping sometime during the week? Take advantage of NH's tax-free shopping status with a splurge at Settlers Green in North Conway, NH. Then, cap off your success with a community fireworks show!  (Friday, 2/18, 7 – 7:30pm)
SOCIETY FOR THE PROTECTION OF NH FORESTS (Bethlehem, NH)
Walk in the Park with a Naturalist
Have you been looking for a way to get outside and learn over vacation week? Join local naturalist Steve Sabre for a forest adventure in Bethlehem, NH's Bretzfelder Park. During this early nighttime excursion, Sabre will point out various White Mountains plants and animals, and also answer guest questions about the great outdoors.  (Wednesday, 2/22, 6 – 7pm)
To RSVP for this free Society for the Protection of NH Forests event and receive more information, contact tripley@forestsociety.org.
SQUAM LAKES NATURAL SCIENCE CENTER (Holderness, NH)
What wonderful news! One of the Squam Lakes Natural Science Center's Wild Winter Walks falls right on February vacation week. Take to the well-kept woods with a Science Center naturalist and enjoy spotting animal ambassadors along the way. If it's extra snowy, you might even have the chance to try out one of the Science Center's free pairs of snowshoes! (Saturday, 2/25, 20 -11:30am. $10 for members/$13 for nonmembers. For ages 7 and up. Maximum of 12 participants; an adult must accompany any children partaking in the walk. Dress warmly; this is an entirely outside event.)
To save your space on the Wild Winter Walk, register on the Squam Lakes Natural Science Center website.
LIVE MUSIC & THEATRE
THE FLYING MONKEY MOVIE HOUSE & PERFORMANCE CENTER (Plymouth, NH)
Foreigners Journey featuring Constantine Maroulis
Diehard 80s fans, book your tickets ASAP. Foreigners Journey (featuring covers from the iconic bands Foreigner and Journey) is coming to The Flying Monkey Movie House & Performance Center to kick off February vacation week. There will be powerful ballads aplenty thanks to Constantine Maroulis' powerful pipes, plus some original songs, a Rock of Ages mashup, and backup dancers. (Saturday, 2/18, 7:30 – 9:30pm. Tickets start at $29.)
Go back a bit further than the 80s for this next set at The Flying Monkey; this time, John Lodge of the Moody Blues lights up Plymouth with a full performance of the famed album Days of Future Passed. The 10,000 Light Years Band will accompany, and a special recording by the late Graeme Edge makes this music event a must-see, 60s style. (Sunday, 2/19, 6:30 – 8:30pm. Tickets start at $49.)
Country lovers, this one's for you. On Thursday, 2/23, music legend Sarah Evans is playing a can't-miss show at The Flying Monkey Movie House & Performance Center in Plymouth, NH. Evans is the fifth most-played female artist on country radio in the past two decades, so expect a fantastic night! (Thursday, 2/23, 7:30 to 9:30pm. Tickets starting at $69. VIP experience also available.)
Natalie MacMaster & Donnell Leahy
Take two fiddle masters turned spouses and a combined 83 years of experience on the stage, and you'll start to get an idea of the enchanting stories of Natalie MacMaster and Donnell Leahy. Canada's reigning couple of Celtic music will light up the Flying Monkey Movie House & Performance Center on Friday, 2/24 – will we see you there? (Friday, 2/24, 7:30 – 9pm. Tickets starting at $49.)
Another Celtic act is coming your way! Laugh your way into the end of vacation week with The Irish Comedy Tour, featuring prominent comedians and musicians who can trace their roots back to the Emerald Isle. (Saturday, 2/25, 7:30 – 9:30pm. Tickets start at $29.)
For more information and online ticket purchases, visit The Flying Monkey Movie House and Performance Center website.

Photo Courtesy of The Flying Monkey Movie House & Performance Center
WOODSTOCK INN BREWERY (North Woodstock, NH)
Every Friday and Saturday (including vacation weeks), the Woodstock Inn Brewery in North Woodstock, NH plays host to some stellar live bands. Leave the kiddos at home and combo a late dinner with one of these acts, and you've got the perfect date night! (Recurring weekly on Fridays and Saturdays, 8:30pm to 11:30pm)
Musically talented folks, it's your time to shine. Head to the main bar to listen to the local music scene, then add your own pipes to the mix. (Recurring weekly on Sundays, 8:00 – 11:30pm)
Win $200 or just take in some excellent tunes along the way! Head to Music Bingo at the Woodstock Inn Brewery for a bit of competition mixed with great food and brews. (Recurring weekly on Mondays, 7 – 9pm)
Gather a little liquid courage and hit the stage on Tuesday; a karaoke bonanza is calling you and your crew.  (Recurring weekly on Tuesdays, 8:30pm – 11:30pm)
Now that you have a good idea of the goings-on, it's time to start booking a place to stay, scoping out menus for these amazing restaurants, and perhaps even setting aside one day exclusively for a road trip inspired by our latest itineraries. After that, how you and your fam have fun is up to you!